Grilling Mahi Mahi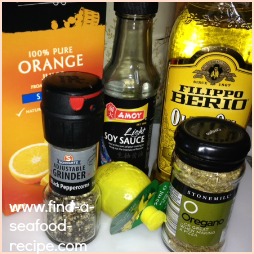 If you're grilling mahi mahi, then this marinade will add flavor and stop it from drying out during grilling.

You can use this marinade on shark, tuna, marlin etc.
It's great for barbecues or grilling indoors and you can whip up the ingredients in seconds.
Whilst the fish is marinading, you can prepare some salad and new potatoes to go with the meal and make sure your coals or grill is good and hot.

---
Mahi Mahi Marinade
1/4 c orange juice
1/4 cup soy sauce
2T olive oil
1T lemon juice
2T chopped fresh parsley
1 clove garlic, minced
1/2 t fresh oregano
1/2 t pepper

Mix marinade and prepare 4 Mahi-Mahi steaks. Marinate steaks for 30 minutes. Broil steaks, using marinade to keep moist.
Make sure your grill is hot and then cook for about 10 minutes in total, turning the steaks frequently.
Each time you turn, you need to baste with the marinade.
I have a pastry brush that I use just for brushing fish when I'm grilling - they're only cheap and you won't transfer the taste of fish.
Now - how simple is that?
I would serve it with some baked potatoes and a salad for a lovely easy seafood meal.
Fish is a good source of protein and mahi mahi is low in fat which makes it a good choice if you're trying to watch your weight.
You may also like these recipes
Find A Seafood Recipe

>
Grills and Barbecues
> Grilling Mahi Mahi
---
Some of the links on this site include affiliate links, providing Find-a-Seafood-Recipe a small percentage of the sale at no additional cost to you. You are not obliged to use these links to make a purchase, but if you do, it helps to support this site and keep the content free.

---
---