Mahi Mahi Fish Recipes
As an Amazon Associate I earn from qualifying purchases.

Here's a couple of mahi mahi fish recipes. You could use mahi mahi any time you would have used swordfish or tuna steaks. 
It has a similar texture to these fish and is available in abundance.
You may find it at some supermarkets, but you could also ask your fishmonger to stock it.
It is often available frozen in steaks - they are just as good as fresh, because they will have been processed and frozen quickly so as not to lose quality.
---
Mahi Mahi with Parsley and Lime Butter
4 1" (2.5cm) thick mahi mahi steaks
4 tbspns oil
2 tbspns lime juice
4 oz butter
Juice and rind of 1 lime
1 or 2 limes
Handful of fresh parsley - finely chopped

Place the mahi mahi steaks in a shallow dish.
Mix together the oil and lime juice with a few twists of black pepper and pour over the fish. Slice another 2 limes and lay them on top - leave in the fridge to marinade for about an hour and turn it a couple of times.
Mix together the butter, lemon juice and rind and parsley - form into a sausage shape and leave in the fridge.
Heat your grill and line the pan with foil - brush with oil so that the fish doesn't stick.
Grill the fish for about 4 minutes either side then top with the lemon and parsley butter just before serving.
Here's the second of my mahi mahi fish recipes.
Grilled Mahi Mahi with Salsa
4 1" (2.5cm) thick mahi mahi steaks
fresh black pepper
1 tbspn lemon juice
oil for brushing over the fish
2 large beefsteak tomatoes -skinned and chopped
4" (10cm) piece cucumber - diced finely
1 red onion - peeled and diced
1/2 green pepper - decored and diced
2 tbspn olive oil
1 tbspn wine vinegar
1 tspn sugar

Assemble your salsa ingredients - tomatoes, cucumber, onion and pepper in a bowl.
Mix together the olive oil and wine vinegar. Adjust the seasoning with pepper and sugar to taste and pour it over the salad - mix thoroughly and leave it in the fridge for about one hour before serving.
Heat your grill - line the pan with foil and brush with oil.
Put the mahi mahi steaks on the foil and brush with oil - add a sprinkling of lemon and a couple of twists of black pepper.
Cook for about 4 minutes either side - when you turn the fish, brush with oil and add lemon and pepper again.
Serve with the salsa salad.
Either of these mahi mahi fish recipes could be barbecued or you could use swordfish, tuna, halibut or any other firm fleshed fish as a substitute.
More mahi mahi fish recipes and some that will easily adapt
Some of the links on this site include affiliate links, providing Find-a-Seafood-Recipe a small percentage of the sale at no additional cost to you. 

Subscribe to Seafood Recipe News - complete the form below.
Your email address is secure and will *only* be used to send Seafood Recipe News. When you confirm your subscription, you will be taken to a page where you can access your free eCourse. Complete the form and it will arrive over the following five days.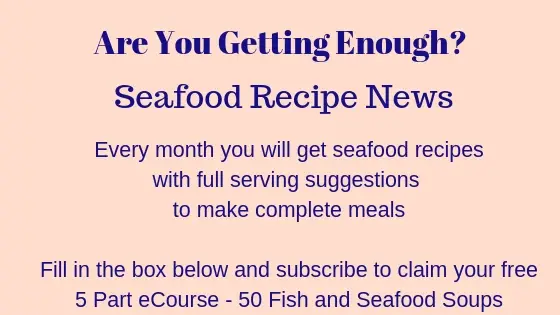 Mahi-mahi Fish Recipes
By Liz Alderson, Mar 20, 2017
Super easy mahi-mahi fish recipes with lime butter or salas.
Prep Time: 5 minutes

Cook time: 10 minutes

Yield: 4

Main Ingredient: mahi-mahi