Garlic and Wine Sauce
As an Amazon Associate I earn from qualifying purchases.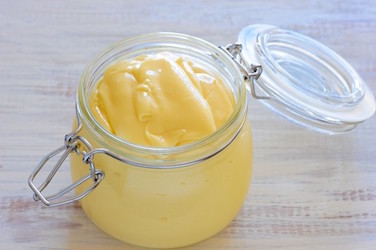 This garlic and wine sauce uses the cooking liquor from the fish or shellfish you are going to serve. You'll need to keep it warm whilst you make the sauce, but it doesn't take very long. Just have all your ingredients together before you start and it'll be ready.
Make it up until the end of the second step before you start cooking your fish - then when it's done, you add the strained cooking liquor to the sauce and it's done. 
This recipe is best made using an electric whisk - hand mixer - it's possible to do it by hand, but is hard work - a good workout but it takes a little longer. 
It's a mayonnaise with added flavour - a cross between a aioli and a wine sauce. The consistency is one of Hollandaise or Bernaise, but it's not so tricky - you'll find recipes for all those linked at the bottom of the page. 
You can poach four fish steaks - try something really meaty, like halibut or turbot in about 5 fl ozs wine - cover and simmer for about 5 minutes until the fish is cooked through. Strain the liqour and keep the fish warm whilst you finish the sauce. 
OR
Use about 5 fl oz (15ml) dry white wine to steam some shellfish - about 4lbs (1.8kilo) mussels or a mixture of shellfish - steam for around 3 minutes until all the shells are open - discard any that are still closed. Strain the liqour and use in the following way:-
---
Garlic and Wine Sauce
6 cloves garlic - peeled
3/4 tspn salt
2 egg yolks
3 tspns lemon juice
10 fl oz (300ml) good quality olive oil
Cooking liqour as above
Handful of freshly chopped parsley

1. Take the garlic cloves and crush them with the flat blade of a large knife. Mix to a paste with the salt - really smooth.
2. Put the garlic paste into a bowl with the egg yolks and lemon juice and whisk together well. Incorporate the oil slowly until you get a nice thick mayonnaise type sauce.
3. Add the cooking liqour and parsley - mix together well and pour over the cooked fish or shellfish.
This is an absolutely delightful seafood sauce - serve lots of fresh crusty bread and make a pig of yourself!
You may also like these recipes
Some of the links on this site include affiliate links, providing Find-a-Seafood-Recipe a small percentage of the sale at no additional cost to you. 

Subscribe to Seafood Recipe News - complete the form below.
Your email address is secure and will *only* be used to send Seafood Recipe News. When you confirm your subscription, you will be taken to a page where you can access your free eCourse. Complete the form and it will arrive over the following five days.