Seafood Sauce Recipes
Bearnaise and Hollandaise
As an Amazon Associate I earn from qualifying purchases.

Here are some classic seafood sauce recipes and alternative instructions as to how to make them the easy way in your processor.
Hollandaise sauce was the original and Bernaise sauce is a variation - the classic Eggs Royale (smoked salmon, Eggs Benedict is made with ham) uses Hollandaise.
These two classic seafood sauce recipes go well with fish at any time and are served warm.
For more seafood sauces, click here or on Seafood Sauces on the navigation bar.
---
Hollandaise Sauce
3 tbspns white wine vinegar
2 tbspns water
6 peppercorns
4 oz (100g) butter
3 egg yolks
lemon juice
salt

In a small saucepan, put the vinegar, water and peppercorns - bring to the boil and simmer until the liquid is reduced to about 1 tbspn.
Strain and cool.
Melt the butter.
Beat the egg yolks.
Put your cooled vinegar in a bowl and place it over a pan of simmering water - make sure the bottom doesn't touch the water or the eggs could start to scramble.
Beat in the egg yolks, then very slowly, the melted butter, stirring constantly.
Taste, add lemon juice and salt.
If the mixture thickens too quickly, just remove it from the heat.
Blender Hollandaise
4 egg yolks
2 tbspns white wine vinegar
2 tbspns water
6 oz (150g) melted butter
salt and pepper

Put your egg yolks, vinegar and water into the blender.
Turn on and whilst it is running, add the melted butter slowly. Process until thick.
Add salt and pepper to taste.
Bearnaise Sauce
1 tbspn each finely chopped shallot, tarragon, and parsley
4 tbspns tarragon vinegar
4 tbspns dry white wine
4 peppercorns
6 oz (150g) butter
3 egg yolks
salt and cayenne pepper

Take a small saucepan and reduce (by boiling rapidly) the shallot, herbs, vinegar, wine and peppercorns to about 2 tbspns.
Strain this and leave it to cool.
Beat the eggs until they're creamy and frothy and melt the butter.
Put your vinegar liquid in a bowl over a pan of simmering water.
Beat in the egg yolks.
Slowly add the butter, beating all the while until the sauce is creamy and thick.
Season with salt and cayenne to taste.
Blender Bearnaise
1 tbspn finely chopped shallot
2 tbspns white wine vinegar
6 peppercorns
3 egg yolks
2 tbspns lemon juice
6 ox (150g) melted butter
salt, pepper and cayenne

Put the shallot, vinegar and peppercorns into a pan and reduce to about half by boiling rapidly.
Strain and cool.
Process the egg yolks and lemon juice until creamy and add the vinegar.
Keep the processor running and add the melted butter slowly - it will thicken into a creamy sauce.
These seafood sauce recipes are ideal with poached fish.
You may also like these recipes
Some of the links on this site include affiliate links, providing Find-a-Seafood-Recipe a small percentage of the sale at no additional cost to you. 

Subscribe to Seafood Recipe News - complete the form below.
Your email address is secure and will *only* be used to send Seafood Recipe News. When you confirm your subscription, you will be taken to a page where you can access your free eCourse. Complete the form and it will arrive over the following five days.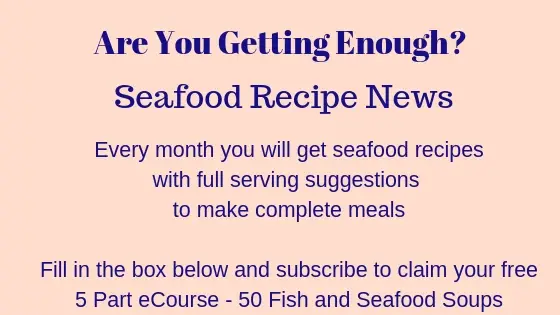 Seafood Sauce Recipes
By Liz Alderson, Mar 27, 2017
Classic seafood sauce recipes, Hollandaise and Bernaise - traditional method and blender method. So easy to make and delicious to eat.
Prep Time: 5 minutes

Cook time: 10 minutes

Yield: 4

Main Ingredient: vinegar, eggs, butter