Fish Recipes Low Cholesterol
Fish Curry
As an Amazon Associate I earn from qualifying purchases.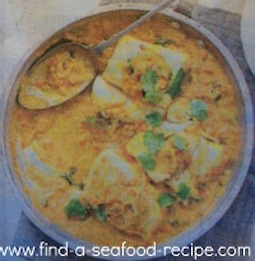 When I look at fish recipes low cholesterol keeps coming up in the 'blurb' about fish.
I forget that fish is a good all rounder in the nutrition stakes - maybe it's my memory? Eat more fish eh?
So - here's a great fish curry - serve it with plain boiled rice or a nan bread.
I always use plain yoghurt in my curries - it softens the harshness of the spices. Also, a small can of tomatoes, chopped very finely most times. 
This adds some acidity to the curry as well as making a good amount of sauce.
Fish cooks really quickly and so this is a meal you can make in a few minutes.
---
Fish Curry
2 tbspns olive oil
1 onion - peeled and finely chopped
2 cloves garlic - crushed
1 small green chilli - deseeded and finely chopped
1 tspn garam masala
1 tspn ground cumin
1 tbspn tomato puree
1 tbspn dessicated coconut
1 med can peeled chopped tomatoes

0.5 pint (275ml) yoghurt
1 lb (450g) white fish fillet - skinned and cubed

Heat the oil and gently fry the onion, garlic and chilli until soft.
Stir in the spices and cook for 2 minutes.
Add the tomato puree, coconut and stock, stir thoroughly at this point to blend the oil, spices and liquid - bring to the boil.
Add the and fish and reduce to simmer for about 10 minutes.
The fish should have cooked through by this point. You can tell when it's done by pressing it with your finger. If it's firm to the touch, then it's cooked.
Do be careful - the sauce will be hot and you can easily burn yourself when you do this. Best practice is to lift a piece out on a slotted spoon and then press it.
Cook's Notes

If you find yourself not having all these ingredients, nor wanting to buy them, you can do a pretty good curry by just buying a generic 'curry powder' which will be a mixture of the individual spices you need. I tend to go for 'medium' hot and then I can adjust it to the taste of whoever is eating it. I can add a bit more if we want a spicier curry. 

I know that people invest a lot in buying individual spices and think they've cheated or failed if they opt for the curry powder. I have a pot in my cupboard which I use regularly. I add it to either a can of chopped tomatoes, a pack of passata or a pot of plain yoghurt and it makes a perfectly good curry sauce. I use about one tablespoon and then taste, if I want it hotter, I add a bit more. 
You may also like these recipes
Fish recipes low cholesterol 
Some of the links on this site include affiliate links, providing Find-a-Seafood-Recipe a small percentage of the sale at no additional cost to you. 

Subscribe to Seafood Recipe News - complete the form below.
Your email address is secure and will *only* be used to send Seafood Recipe News. When you confirm your subscription, you will be taken to a page where you can access your free eCourse. Complete the form and it will arrive over the following five days.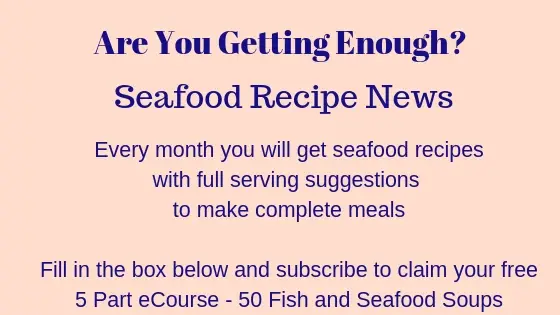 Fish Curry
By Liz Alderson, Mar 30, 2016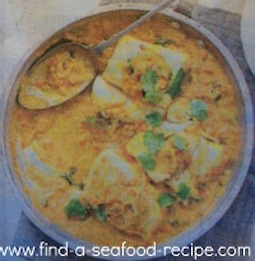 This easy and tasty fish curry recipe is a great low cholesterol option.
Prep Time: 2 minutes

Cook time: 10 minutes

Yield: 2

Main Ingredient: white fish fillet, tomatoes