Easy Prawn Recipe
Prawn Shrimp Fettucine


As an Amazon Associate I earn from qualifying purchases.

An easy shrimp recipe (depending on were you live, that would be easy prawn recipe)
What's the difference? In the UK, we use 'shrimp' for small and 'prawn' for large. In the US, they say 'shrimp' for everything but they tend to be large, super sized some would say. Canada, Australia and New Zealand tend to use the term prawns in the same way. 
The tomato sauce base is very useful - you can use it with any mixture of seafood or fish you like as a pasta sauce. 
I like to serve this with some garlic bread - see the tip below for quick garlic bread without switching on the oven.
Grate some parmesan to hand separately so that people can help themselves and sprinkle it on just before eating.
---
Prawn Fettucine

1 tbspn olive oil
1 onion, peeled and finely chopped
1 clove garlic, peeled and crushed
1/2 pint (300 ml) white wine
1 14 oz (400g) can peeled chopped plum tomatoes
1 tbspn tomato puree
1 lb (450g) fettucine
12 oz (350g) cooked peeled prawns (shrimp)
1 tbspn fresh chopped parsley

Heat the olive oil and gently fry the onion and garlic.
Add the wine, tomatoes and puree and simmer for about 10 minutes until the sauce begins to thicken.
Cook the fettucine according to the instructions on the packet.
Add the prawns to the sauce and heat through.
Serve at once with freshly grated parmesan.
This is a really simple prawn recipe - if prawns are too expensive in this quantity for you, then you could use a can of tuna and just a few prawns instead.
*TIP* Take slices of white bread and toast one side, rub a peeled garlic clove then butter the other side and finish toasting under the grill - quick, easy garlic bread.
Cook's Notes

You could use this super easy prawn recipe sauce as an entree (main course) in other ways without having it with pasta. 

I would try some saute potatoes and some steamed veg or even stir fried veg with it. If you would like it a bit spicy, add some chilli or paprika powder to taste. 

I often have meals like this, I like a sauce with my food and this is such a tasty base sauce to use and experiment with as you feel.
Try these pages for another easy prawn recipe
Some of the links on this site include affiliate links, providing Find-a-Seafood-Recipe a small percentage of the sale at no additional cost to you. 

Subscribe to Seafood Recipe News - complete the form below.
Your email address is secure and will *only* be used to send Seafood Recipe News. When you confirm your subscription, you will be taken to a page where you can access your free eCourse. Complete the form and it will arrive over the following five days.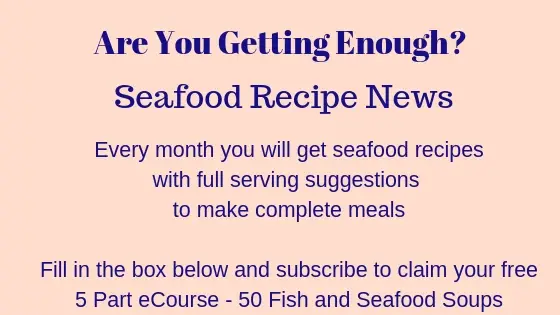 Shrimp Fettucine
By Liz Alderson, Mar 30, 2016
Depending on where you live, this will be either Shrimp Fettuccine or Prawn Fettuccine - either way, the gorgeous tomato sauce lifts this easy recipe to great heights.
Prep Time: 10 minutes

Cook time: 20 minutes

Yield: 4

Main Ingredient: shrimp. canned tomatoes, fettuccine