Shrimp Fried Rice Recipe
As an Amazon Associate I earn from qualifying purchases.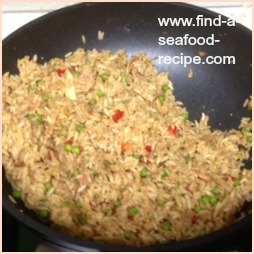 This shrimp fried rice recipe can be either a way of using up 'bits' of leftovers or you can make it part of a meal.
A great recipe for a quick meal if all the ingredients are prepared beforehand.
You can use any combination of meats and vegetables you like. Mushrooms (use a little extra oil as they absorb a lot) scallions (spring onions) chopped chives - bits of beansprouts - cooked chicken - the limit is your imagination - or what's in the cupboard ;-)
---
Cooks Tip You MUST use pre-cooked and cooled rice for this dish, otherwise it will be starchy.

As with all chinese style cooking, as it is so quick, the ingredients need to be prepared before you start.

Shrimp Fried Rice Recipe

Serves 2 to 3 people

1/2 cup (4 oz, 100g) frozen cooked peeled shrimp (prawns)
Pepper to taste
1/2 cup (4 oz, 100g) cooked ham - diced
1 medium onion - peeled and chopped finely
2 spring onions (scallion) - sliced thinly
4 eggs - beaten
1 tbspn oyster sauce
1 tbspn soy sauce
1/2 cup (4 oz, 100g)frozen peas
2 cups (1lb, 450g) cooked, cooled rice - that's about 1 cup raw weight
4 to 5 tbspns oil for frying

Beat the oyster sauce and soy sauce into the eggs.
Heat your wok or very large frying pan and then pour in 1 tbspn oil. Let it heat to smoking and then pour in half your beaten egg mixture.
Roll the pan so that the egg coats the sides and makes a very thin omelette. Take it out and cut it into strips and set aside.
Then add a couple more tablespoons of oil and fry the onions and any other vegetables until softened to your liking.
Add the ham, peas and shrimp and stir round - add the egg mixture and stir thoroughly so that the egg is cooked.
Add more oil if necessary and heat to smoking - then add your rice and stir fry until hot all the way through - you can add some more soy sauce at this point if you like, or you could let people add soy sauce at the table.
Keep turning the mixture in the pan until you cannot see any white rice grains.

Garnish with the strips of egg and then serve. Maybe chop up some chives or onion tops as well to scatter over the top.
You may also like these recipes
Some of the links on this site include affiliate links, providing Find-a-Seafood-Recipe a small percentage of the sale at no additional cost to you. 

Subscribe to Seafood Recipe News - complete the form below.
Your email address is secure and will *only* be used to send Seafood Recipe News. When you confirm your subscription, you will be taken to a page where you can access your free eCourse. Complete the form and it will arrive over the following five days.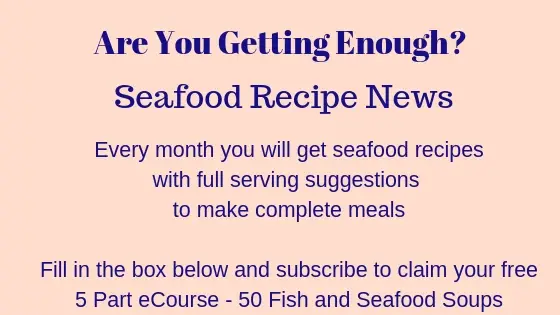 Shrimp Fried Rice Recipe
By Liz Alderson, Mar 27, 2017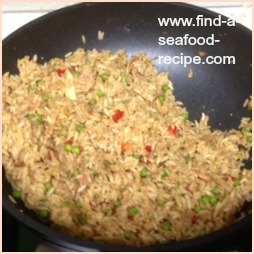 Shrimp Fried Rice is a great way of using up leftovers - vegetables, extra rice, surplus eggs - it can all go in. This basic recipe can be adapted but you do need to use pre-cooked and cooled rice.
Prep Time: 10 minutes

Cook time: 10 minutes

Yield: 3

Main Ingredient: shrimp, rice, onion, eggs