Speckled Trout Recipes
As an Amazon Associate I earn from qualifying purchases.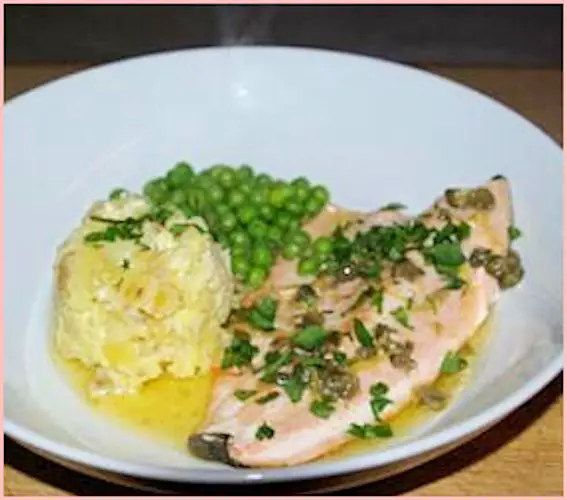 The simplest speckled trout recipes are the best.
If you've caught one, then you will have it really fresh.
An average sized one will feed two people, but they can range from 1lb to 16lbs!
It's a 'fisherman's fish' - a game fish and not always available via a fishmonger - rainbow is the more common variety you'll find on sale.
It has a very delicate flavor though and will benefit from the most simple methods of cooking.
It's full of beneficial oils and contains Vitamin D which is important through the winter months when we don't get enough sun. 
Pan frying is a favorite - but if you've caught it off the river bank, then you may just want to gut it and barbecue it there and then.
If you want to barbecue, then a fish holder is a good idea - they stop the fish from curling up and means you can flip it to cook both sides without fear of it breaking up. Brush some oil over the inside of the holder and the skin of the fish before you put it in.
---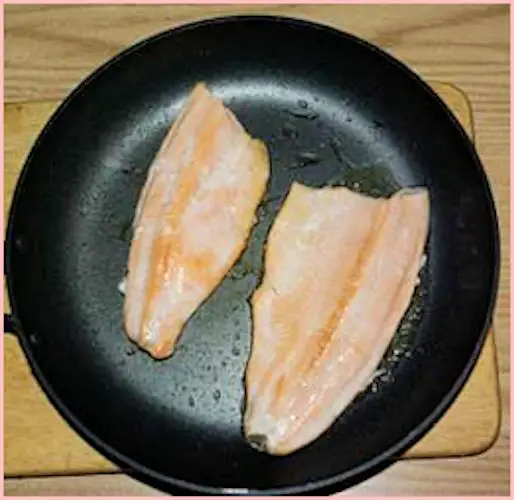 Pan Fried Trout

fillets of trout - one per person
butter and olive oil
1 small glass white wine
handful fresh chopped parsley

Melt the butter and olive oil in a large frying pan until it sizzles.
Put the trout - skin (or skinned) side down - and fry for 1 minute.
Flip and fry for about 4 minutes.
Turn and fry again for 4 minutes.
Turn once more and fry for a further minute until the fish is cooked and hot.
Remove the fish, keep it warm and add the glass of wine and chopped parsley to the pan.

Scrape the residue from the frying pan and stir the mixture thoroughly.
Pour the sizzling juices over the fish and serve with some new potatoes and buttered veg or a salad.
Cook's Notes

You can tell when fish is cooked when it's firm to the touch.

Press it with your finger (be careful, it's hot!) and if it has no 'give' in it, then it's done. It should look as though it would flake easily if you were to press a little harder, the flakes should be about to separate. 
Speckled Trout Recipes - with Capers
This is a variation on the pan fried trout and shows you how simple it is to make a spectacular looking meal out of very simple ingredients.
In addition to the ingredients above, you'll need a tablespoon of chopped capers. 
Add those to the residue in the pan at the same time as you add the wine and let it all heat through.
The potato side looks wonderful - that's easy and if you click on Easy Potatoes you'll see.
Add some cooked peas or other buttered green vegetables and you've got a dinner party main course which you can put together in less than 20 minutes.
You may also like these recipes
Some of the links on this site include affiliate links, providing Find-a-Seafood-Recipe a small percentage of the sale at no additional cost to you. 

Subscribe to Seafood Recipe News - complete the form below.
Your email address is secure and will *only* be used to send Seafood Recipe News. When you confirm your subscription, you will be taken to a page where you can access your free eCourse. Complete the form and it will arrive over the following five days.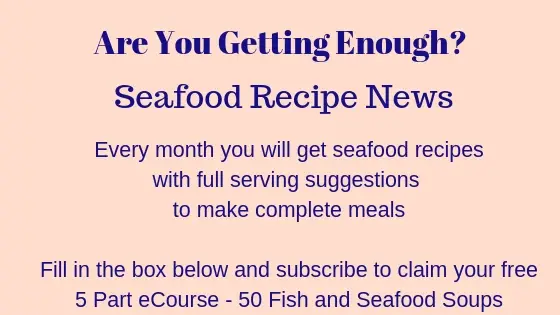 Pan Fried Trout
By Liz Alderson, Mar 30, 2016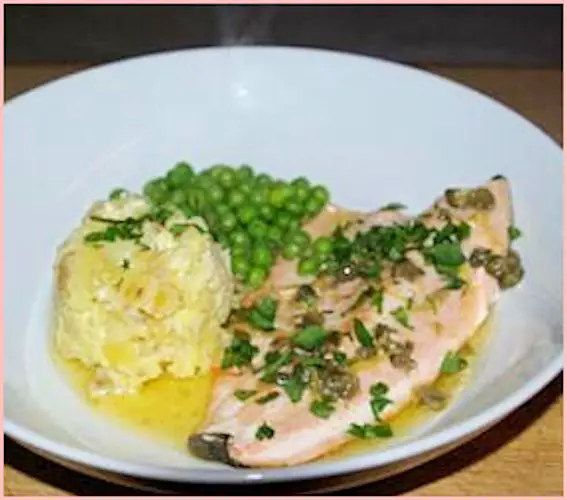 The simplest speckled trout recipes are the best.
Prep Time: 2 minutes

Cook time: 9 minutes

Yield: 1

Main Ingredient: fillets of trout