Chinese Seafood Recipes
Prawn Dishes
As an Amazon Associate I earn from qualifying purchases.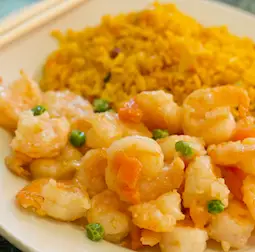 Here are a couple of chinese seafood recipes - both using prawns (shrimp) and simple to make.
Th second recipe is quick to cook - you will need to get your ingredients prepared before you start cooking.
Chop and measure everything - have them ready in small dishes, plates or in piles on your chopping board.
This way, you won't overcook things whilst you're preparing the next addition.
The secret to fast chinese cooking is to have the heat high and keep moving the contents of the pan - a wok is good as it gives yoo space to move things around rapidly without throwing it all over the cooker top - but if you've only got a large pan, then just be a little more careful with your stirring and tossing.
---
Chinese Seafood Recipes
Chinese Braised Shrimp
1lb (450g)cooked and peeled shrimp
21/2 fl oz(70ml)stock or water
2 tspns rice wine (dry sherry will do)
1/4 tspn salt
2 tspns sugar
1 tspn cider vinegar
2 spring onions (scallions)chopped
1" (2.5cm) piece fresh ginger, grated
1/2 tspn cornflour

Blend the cornflour to a smooth paste with 1 tspn of the water.
Put all the ingredients (apart from the prawns) into a large frying pan - as it's Chinese you might as well use a wok - and bring to the boil.
Simmer for 2 minutes, add the prawns, heat through and serve immediately.
Lovely with rice and a stir fried vegetable.
Sweet and Sour Shrimp (Prawns)

1lb (450g) peeled cooked shrimp
4 oz (100g) sliced canned water chestnuts
small red or green pepper, diced
2 spring onions (scallion) sliced
1 garlic clove, peeled and crushed
oil for frying
21/2 fl oz (70ml) stock or water
1 tbspn rice wine (dry sherry will do)
2 tspns soy sauce
1 tbspn tomato puree
1 tbspn cider vinegar
1 tbspn sugar
2 tspns cornflour (blend with 2 tspns water)

Heat a large frying pan or wok. When it's hot, add about 1 tbspn oil.
Add the garlic and spring onions and stir fry for about 30 seconds.
Add the pepper and stir fry a further 30 seconds.
Add the sauce ingredients, bring to the boil and simmer for about 4 minutes.
Add the water chestnuts and prawns, heat through for about 1 minute and serve immediately.
Plain boiled rice is good with this.
For more chinese seafood recipes using fish, click on the Seafood'n'Rice button
You may also like these pages
Some of the links on this site include affiliate links, providing Find-a-Seafood-Recipe a small percentage of the sale at no additional cost to you. 

Subscribe to Seafood Recipe News - complete the form below.
Your email address is secure and will *only* be used to send Seafood Recipe News. When you confirm your subscription, you will be taken to a page where you can access your free eCourse. Complete the form and it will arrive over the following five days.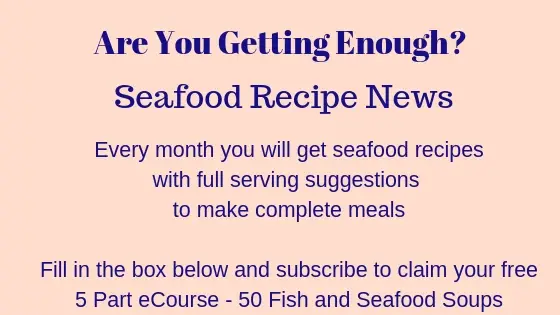 Sweet and Sour Shrimp
By Liz Alderson, Apr 20, 2016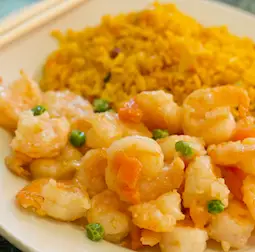 Tasty Chinese Seafood recipes - sweet and sour shrimp and braised shrimp. Quick to cook so have your ingredients all ready chopped before you start.
Prep Time: 10 minutes

Cook time: 10 minutes

Yield: 4

Main Ingredient: shrimp