Chinese Fish Recipes
Fish Fried Rice
Stir Fried Fish With Noodles

As an Amazon Associate I earn from qualifying purchases.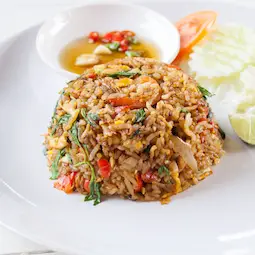 Chinese fish recipes follow the same rules as all other chinese recipes. The trick when cooking  is to have all your ingredients ready - chopped and prepared - the cooking is quick and you can easily overcook if you're not careful.
Assemble everything in little dishes, plates or in piles on the chopping board (to save washing up!) Then things will be ready to tip into the pan at the right time.
Fish Fried Rice

8 oz (225g)(dry weight) long grain rice - cooked and cooled
12 oz (375g) firm white fish fillet, cod, haddock basa etc - skinnged, boned and cubed
Oil for frying
4 spring onions (scallions)sliced
1 clove garlic, peeled and crushed
4 oz frozen peas - defrosted
2 tbspns soy sauce
2 eggs

Get all your ingredients ready - beat the soy sauce into the egg, slice everything and have it to hand - chinese cooking is fast!
Heat some oil in a large frying pan or wok and stir fry the fish for a minute or so until it is cooked. Remove with a slotted spoon and put to one side.
Stir fry the spring onion and garlic for about 30 seconds.
Add the rice and fry over a high heat, constantly moving the rice around the pan.
When it begins to brown, add the cooked fish and peas. Stir thoroughly until it is all heated through.
Move the rice mixture to the edge of the pan and pour the egg into the centre. Stir the eggs until they are nearly cooked.
Then bring the rice back down into the egg and mix thoroughly.
Serve immediately.
---
Stir Fried Fish with Noodles

8 oz (225g) noodles
oil for frying
8 oz (225g) firm white fish fillets as above
4 spring onions (scallion) sliced
small red pepper - small diced
1" (2.5cm) piece fresh ginger - peeled and grated
4 oz (110g) mushrooms - sliced
4 oz (110g) canned bean sprouts
4 oz (110g) canned water chestnuts - sliced
4 oz (110g) defrosted peas
2 tbspns soy sauce
2 tbspns rice wine (dry sherry will do)

Place the noodles in a large bowl and pour boiling water over them - leave for 10 minutes and drain.
Heat some oil in a large frying pan or wok and stir fry the fish quickly to cook. Remove and put to one side.
Heat oil again, add the spring onions, pepper and ginger and stir fry for about 1 minute.
Add the sliced mushroom and stir fry about 1 minute - if the mushroom absorbs all the oil, then add some more.
Add the bean sprouts, water chestnuts and peas and stir fry again to heat through.
Add the fish and noodles, stirring until heated through - serve immediately.
A couple of chinese fish recipes for you to enjoy - getting the ingredients together takes longer than the cooking!
There are more chinese fish recipes on the Seafood and Rice page - use the navbar or the link at the bottom of this page.
If you liked these chinese fish recipes, try these 
Some of the links on this site include affiliate links, providing Find-a-Seafood-Recipe a small percentage of the sale at no additional cost to you. 

Subscribe to Seafood Recipe News - complete the form below.
Your email address is secure and will *only* be used to send Seafood Recipe News. When you confirm your subscription, you will be taken to a page where you can access your free eCourse. Complete the form and it will arrive over the following five days.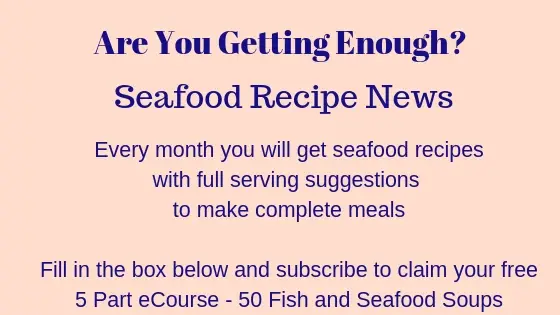 Chinese Stir Fried Fish and Rice
By Liz Alderson, Mar 30, 2016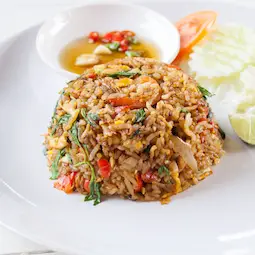 Super quick and tasty Chinese Stir Fried Fish with Noodles and Chinese Fish Fried Rice.
Prep Time: 10 minutes

Cook time: 10 minutes

Yield: 4

Main Ingredient: white fish, noodles, rice