Shrimp Curry Recipe

As an Amazon Associate I earn from qualifying purchases.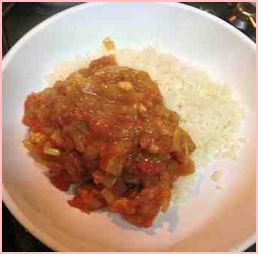 A very quick shrimp curry recipe.
Using storecupboard ingredients and a pack of frozen shrimp, you can have this ready almost as quickly as a takeaway.
Using a curry powder lessens the need for lots of different spices in your cupboard - ideal if you want a curry for one person as things have a tendency to go out of date if you don't use enough.

---
The first job is to defrost your shrimp if they are frozen.
Tip them into a sieve and let them sit over a bowl.
You can run them under tepid water to hasten the process a bit, then leave them to drain whilst you cook the curry sauce.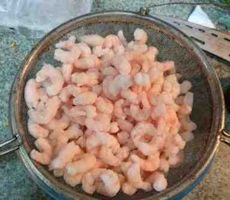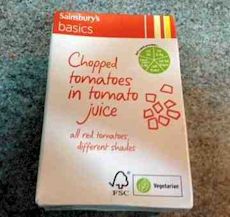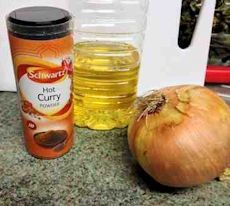 For Four:
2 cups (8 oz, 225g) defrosted shrimp
2 T vegetable oil
1 medium onion - chopped
1 or 2 T curry powder

2 cup size (14 oz, 400g) chopped tomatoes or passata

 I use up to 2 Tablespoons of curry powder, but I suggest you start with one in case it's too strong for you.
First of all, peel the onion, cut it in half and dice it.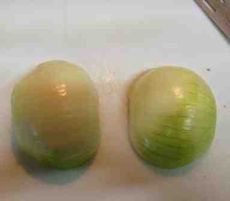 This is the easiest way - cut from root to tip, then turn the chopping board and cut across the slices - you can see here how you end up with small dice.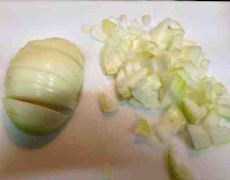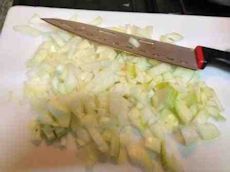 Put 2 T oil into your pan.

Bring it up to heat and add the onion.
Fry gently for around  3 minutes until they are softened.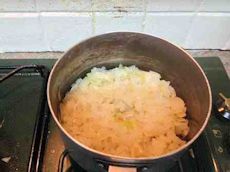 Add the curry powder.
Stir it in well and cook over a medium heat for about one minute.
This will ensure the spices release their flavor and will also make a roux that will help the finished sauce be thick instead of watery.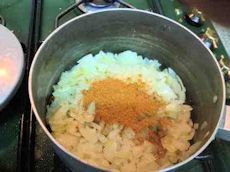 Add your chopped tomatoes or passata.
Stir it in well and allow to cook for about 15 minutes.
Give it a stir every so often - the sauce will thicken as it cooks due to the action of the cooked spices and oil which have made a natural thickener.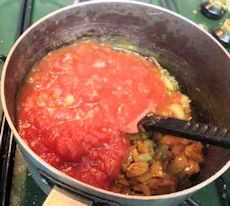 You can see here how thick the sauce has become during this cooking time.
Add the shrimp to the sauce and let them heat through for a couple of minutes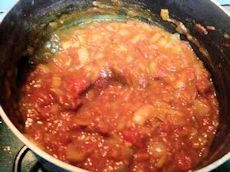 The shrimp (prawns) really only need enough time to heat through properly - any longer and they'll toughen up and be chewy rather than succulent.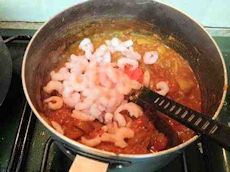 Serve with boiled rice for a quick meal.
Poppadoms, mango chutney and minty yoghurt are also good as sides with this shrimp curry recipe.

You may also like these recipes
Some of the links on this site include affiliate links, providing Find-a-Seafood-Recipe a small percentage of the sale at no additional cost to you. 

Subscribe to Seafood Recipe News - complete the form below.
Your email address is secure and will *only* be used to send Seafood Recipe News. When you confirm your subscription, you will be taken to a page where you can access your free eCourse. Complete the form and it will arrive over the following five days.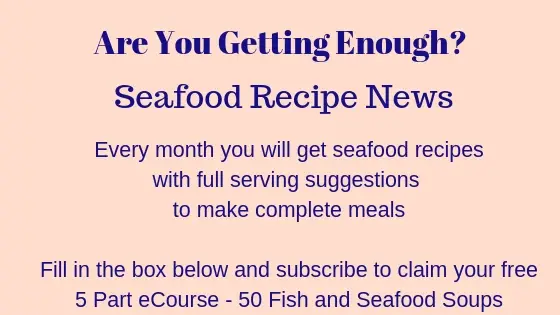 Shrimp Curry Recipe
By Liz Alderson, Mar 27, 2017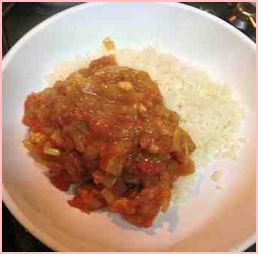 A very tasty, quick and simple basic shrimp curry recipe that you'll be able to put together from store cupboard ingredients, quicker than you can order a takeaway.
Prep Time: 5 minutes

Cook time: 15 minutes

Yield: 4

Main Ingredient: shrimp, onion, passata, curry powder