Thai Fried Rice Recipe
As an Amazon Associate I earn from qualifying purchases.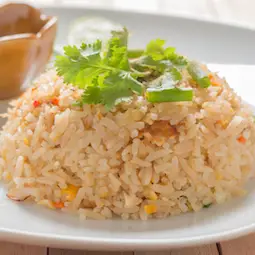 Fish and rice make a great combination - the instructions for this thai fried rice recipe call for you to prepare everything before assembling the finished dish - read on, all will become clear!
This Thai Fried Rice uses dried shrimp and a little goes a long way. You just need to soak them prior to cooking to rehydrate them. Tney're very intense in flavour.
Dried shrimp is the authentic way, but you could easily subsitute fresh, frozen or canned if you would like to. This would be a great way of using up fish leftovers, so you could add any cooked fish you liked.
---
Thai Fried Rice
1 tbspn dried shrimp
8 oz (225g) rice
2 eggs beaten with the salt and pepper (below)
1/2 tspn salt
1/4 tspn black pepper
3 tbspns oil
3 cloves garlic - peeled and crushed
1 red chilli - deseeded and chopped
6 oz (150g) chopped cooked ham
2 tbspns soy sauce
bunch fresh cilantro (coriander) - chopped

Cover the shrimp with hot water and soak for about 15 minutes - drain, chop and set aside.
Bring a pan of water to the boil and cook your rice - about 12 minutes - drain and set aside
Lightly oil a frying pan (a wok is best, but if you don't have one, it doesn't matter) and heat it. Pour the eggs in and leave them to cook through without stirring. Then cut the egg into thin strips and set aside.
Heat the rest of the oil in your pan and cook the garlic and chilli for about 1 minute.
Add the shrimp and cook gently for about 3 minutes - stir constantly, so that they don't 'catch'.
Add the ham and cook a further minute.
Add the cooked rice and heat it through - stir in the soy sauce.
Serve with the strips of egg on top and garnish with coriander.
I love the way this rice is served - pack it into a cup or small bowl, then tip it out onto the plate, a sprig of cilantro on top would be lovely.
You may also like these recipes
Some of the links on this site include affiliate links, providing Find-a-Seafood-Recipe a small percentage of the sale at no additional cost to you. 

Subscribe to Seafood Recipe News - complete the form below.
Your email address is secure and will *only* be used to send Seafood Recipe News. When you confirm your subscription, you will be taken to a page where you can access your free eCourse. Complete the form and it will arrive over the following five days.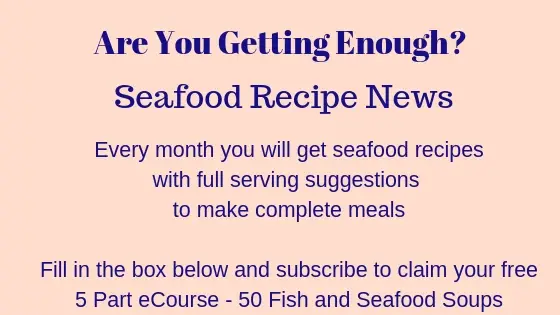 Thai Fried Rice Recipe
By Liz Alderson, Mar 29, 2016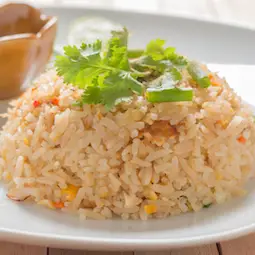 A very tasty mixed fried rice. You need to get all the ingredients ready to cook as once you start, it's like lightening, double quick time and it's on the plate.
Prep Time: 15 minutes

Cook time: 10 minutes

Yield: 4

Main Ingredient: rice, shrimp, egg, cooked ham