White Fish Recipes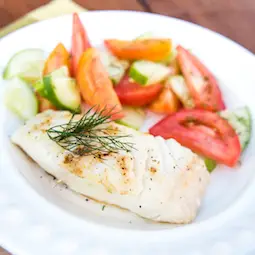 One of the most versatile white fish recipes you could find.
This would be good with cod, haddock, pollack - any type of fish really.
Also the salad would be good to go with a roast chicken or joint of meat - maybe shouldn't mention that here :-)
When you're making the croutons, set a timer - 10 minutes goes very quickly and you don't want a charcoal offering. This is a really simple way of making garlic croutons which you can make in quantity and store in a jar for topping off salads and soups.
---
Cod with Summer Salad

4 slices white bread cut into chunks
4 tbspn olive oil
4 ripe tomatoes
1 small cucumber
1 pepper
1 red onion
2 tbspns white wine vinegar
2 garlic cloves or garlic salt to taste
4 cod or other white fish fillets

Heat the oven to 200C Gas Mark 6.
Put 1 tbspn oil in a bowl and add one of the garlic cloves or some garlic powder/salt.
Tip in the bread cubes and mix thoroughly to coat.
Put the bread on a baking tray and cook for about 10 minutes - the croutons should be crisp and golden by then.
Put 2 tbspns of olive oil, the wine vinegar and garlic in a screw top jar and shake to mix.
Chop up the salad ingredients and put in a bowl, then pour the dressing over.
Heat up a frying pan, brush with oil and when it's hot, add the cod fillets.
Cook for about 4 minutes, then turn and cook another minute or so until the fish is firm to the touch.
Serve with the salad topped with croutons and the fish.
You may also like these recipes
Find A Seafood Recipe

>
Grills and Barbecues
> White Fish Recipes
White Fish Recipes
By Liz Alderson, Mar 30, 2016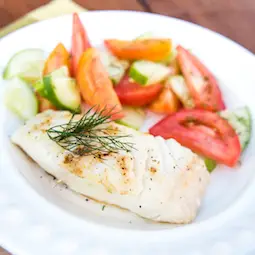 A really easy salad topped with warm cod and croutons. Lovely for a summer outdoor meal, cook on the grill or barbecue or serve indoors. A great way of making garlic croutons as well which you can store in a jar.
Prep Time: 10 minutes

Cook time: 10 minutes

Yield: 4

Main Ingredient: bread, cod, salad, oil

White Fish Recipes - to Find a Seafood Recipe Home
---
Some of the links on this site include affiliate links, providing Find-a-Seafood-Recipe a small percentage of the sale at no additional cost to you. You are not obliged to use these links to make a purchase, but if you do, it helps to support this site and keep the content free.

---
---