Thai Shrimp Recipe
As an Amazon Associate I earn from qualifying purchases.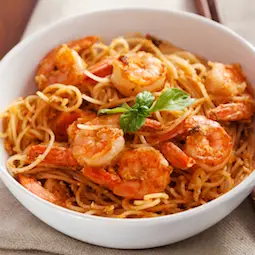 This thai shrimp recipe could be part of a much bigger thai meal. As a rule, thai food is not served in courses but everything together - rice, soups, noodle, main and side dishes all at once.
It is quite common to have a dozen or more dishes at one meal. If you think of each dish being a vegetable, meat, fish, rice it would make a very colourful spread.  I like that sort of meal, it's a lovely way of getting a mixture of different foods all at the same time. 
It is important to have your ingredients assembled before you start to cook as the actual cooking time in the wok is very short.
Have your vegetables chopped and in piles waiting to go into the wok or frying pan.
The noodles generally need soaking in boiling water before cooking. It is rare to have to cook them for any length of time, but the instructions will be on the packet.  The noodles I use most frequently take five minutes of cooking time prior to assembling. 
Try this thai recipe with some fried rice with chopped vegetables and maybe a thai green curry.
---
Thai Shrimp
12 oz (350g) cooked peeled (shrimp) prawns - defrosted
8 oz (225g) flat ribbon noodles - soaked according to instructions
4 tbspn oil
2 cloves of garlic, peeled and crushed
1 egg - beaten
2 tbspn lemon juice
2 tbspn thai fish sauce
4 oz (100g) chopped roasted peanuts
1/2 tspn sugar
1/2 tspn cayenne pepper
2 spring onions (scallions) chopped into pieces
2 oz (50g) beansprouts
chopped fresh coriander to serve

Heat the oil in a frying pan. Fry the garlic until soft and then add the egg - stir to break it up.
Add the prawns and noodles and mix together.
Add the lemon juice, fish sauce, half the peanuts, sugar, cayenne, spring onions and beansprouts and mix together.
Fry for a couple of minutes until everything is heated through.
Serve topped with the remaining peanuts and chopped coriander.
You may also like these recipes
Some of the links on this site include affiliate links, providing Find-a-Seafood-Recipe a small percentage of the sale at no additional cost to you. 

Subscribe to Seafood Recipe News - complete the form below.
Your email address is secure and will *only* be used to send Seafood Recipe News. When you confirm your subscription, you will be taken to a page where you can access your free eCourse. Complete the form and it will arrive over the following five days.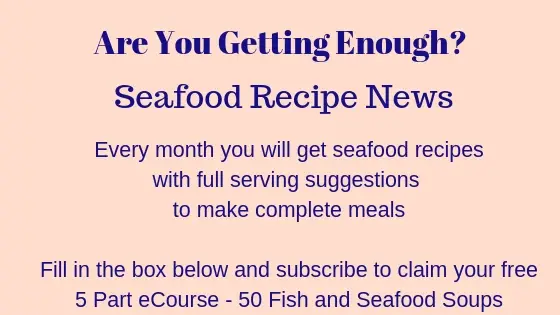 Thai Shrimp Recipe
By Liz Alderson, Mar 29, 2016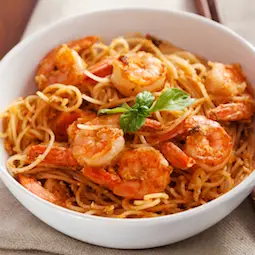 A Thai shrimp with noodles recipe. Thai food is not normally served in courses, it's laid out all at one time for people to help themselves from, like a buffet. The secret to Thai food is in having everything prepared and chopped as cooking time is very quick.
Prep Time: 10 minutes

Cook time: 10 minutes

Yield: 4

Main Ingredient: shrimp, noodles