Thai Fish Recipe
Thai Fish Cakes
As an Amazon Associate I earn from qualifying purchases.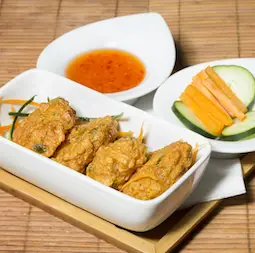 This thai fish recipe is for thai fish cakes. You can of course substitute any type of fish - thai fish cakes are often associated with crab and you could use crab meat instead.
Use a wok to fry your fishcakes in as it's fairly economical on the oil.
It's likely you won't use the oil for anything else as it will be very highly flavored with the lime and chilli. You can of course strain it into a jar when it's cooled and use it just for thai style cooking if you prefer.  Pop a label on the jar as you might think you'll remember what it is, but... Ask me how I know! 
These thai fish cakes can be used as a starter within a larger thai meal, part of a buffet or as a main course for two people depending on your appetite.
They are full of flavour, not using any 'fillers' such as breadcrumbs or potato.
---
Thai Fish Cakes

1lb (450g) cod fillet - skinned and boned
3 spring onions (scallions) sliced
2 tbspn fresh coriander - chopped
2 tbspn thai red curry paste
1 green chilli - deseeded and chopped
1 lime - grated rind and juiced
oil (for cooking - groundnut or your favourite)
salad to serve - lettuce, shredded spring onions, coriander sprigs and lime wedges

Cut the fish into chunks and blend in a food processor.
Add the onions, coriander, curry paste, chilli and lime rind and juice and process until smooth.
Allow the mixture to rest for a little while - it'll be quite warm from the processing and will stick to your hands.  Chill in the fridge for thirty minutes or so, just to let it rest and firm up a bit. 
Lightly flour your hands and make the mixture into 16 little cakes or 8 larger ones.
Allow them to rest in the fridge for about 1 hour before cooking.
Heat the oil until it's smoking - fry the fish cakes for about 6 minutes in total, turning so that they don't burn.
Serve this thai recipe on a bed of salad leaves and garnish with shredded spring onions, coriander and lime wedges.
Absolutely delicious.
You may also like these recipes
Some of the links on this site include affiliate links, providing Find-a-Seafood-Recipe a small percentage of the sale at no additional cost to you. 

Subscribe to Seafood Recipe News - complete the form below.
Your email address is secure and will *only* be used to send Seafood Recipe News. When you confirm your subscription, you will be taken to a page where you can access your free eCourse. Complete the form and it will arrive over the following five days.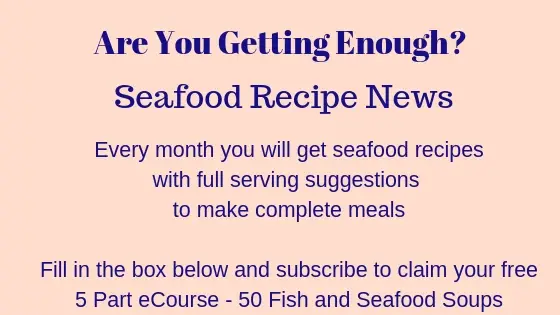 Thai Fish Recipe
By Liz Alderson, Mar 29, 2016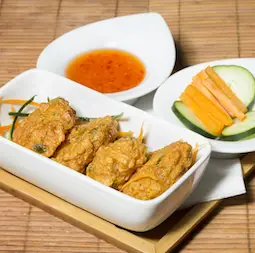 Delicious, delicately seasoned thai fish cakes make a great appetizer or part of a buffet
Prep Time: 10 minutes

Cook time: 10 minutes

Yield: 4

Main Ingredient: cod or white fish, coriander, curry paste