Seafood Pasta Salad
As an Amazon Associate I earn from qualifying purchases.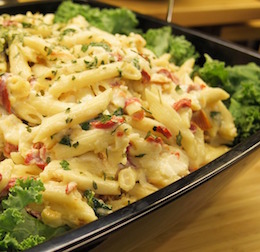 This is a really easy seafood pasta salad recipe.
I've given instructions for canned salmon, but you could easily substitute frozen or canned prawns, shrimp, crab, tuna or anything you like really.
When you've opened the salmon, drain it and take away the skin and bones. Then flake it into large chunks.
Chopped cooked chicken is an option too.
You need to use small pasta shapes, macaroni, shells, bows, whatever, but make sure they're fairly small.
The important thing is to rinse the pasta well after it's cooked, that way you will get rid of the starch and it will stay separate instead of clumping. See the pink Cook's Notes box below for more tips. 
---
Cold Seafood Pasta

10 oz (300g) small pasta shapes
3 tbspn mayonnaise
1 tspn wholegrain mustard
2 tbspns milk
1 large can salmon, drained, cleaned and flaked
thinly diced onion
handful of fresh basil
4 tomatoes - skinned and chopped or sundried chopped

Boil the pasta and then drain and run under plenty of cold water to cool.
Take a large bowl and mix the mayonnaise, mustard and milk together. It should be a good coating consistency - if it's too thick, then add a drop more milk.  There's a recipe for homemade mayonnaise here, using either traditional methods or a quick and easy blender method. 
Tip in the pasta, onion and tomatoes and stir thoroughly.
Add the salmon and mix through.
Scatter the basil leaves over and serve.
This would be good as part of a buffet or serve it with some fresh crusty bread and butter as a quick meal.
Cook's Notes

If you're short of time, then this is a fabulously quick meal to put together. 

Cook the pasta and then you can cool it quickly by running it under the cold water tap, mixing it around with your hands as you're doing so - do be careful though, don't plunge your hands in immediately as the boiling water will still be there in the holes and you'll be badly scalded. 

Give it a really good shake in the colander or sieve to get most of the water out. Then you can pat it dry by tipping it onto kitchen roll, tissue paper, absorbent paper before mixing it. 

This is another meal that I will often cook on vacation - I can put the main ingredients, pasta, canned fish, mayonnaise and mustard in my box that I build up over the year and then when I'm ready to cook it, I just need the fresh veg. Perfect for a meal in the evening or to take on a picnic. 
Some more seafood salad recipes
Some of the links on this site include affiliate links, providing Find-a-Seafood-Recipe a small percentage of the sale at no additional cost to you. 

Subscribe to Seafood Recipe News - complete the form below.
Your email address is secure and will *only* be used to send Seafood Recipe News. When you confirm your subscription, you will be taken to a page where you can access your free eCourse. Complete the form and it will arrive over the following five days.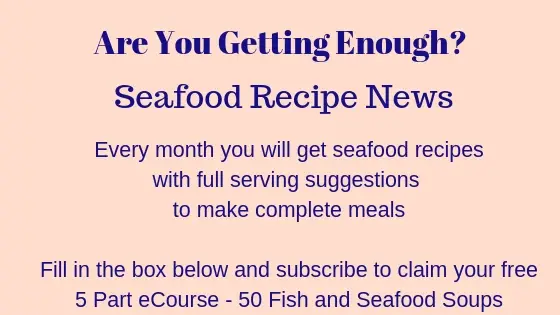 Seafood Pasta Salad
By Liz Alderson, Mar 30, 2016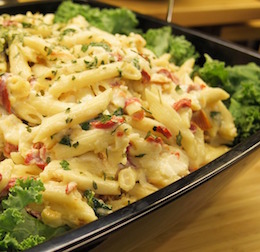 A very adaptable seafood pasta salad. You can use canned or fresh cooked fish. Perfect for a buffet, family tea or picnic.
Prep Time: 15 minutes

Cook time: 0 minutes

Yield: 4 minimum

Main Ingredient: canned fish, pasta, mayonnaise