Slow Cooker Mac Cheese

As an Amazon Associate I earn from qualifying purchases.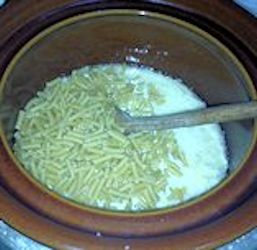 I've read about slow cooker mac cheese, but never tried it until recently - I'm a convert!

I love macaroni cheese, but it's such a bother to make a separate cheese sauce then cook the macaroni, then put it in a serving dish, then re-heat it because it's gone cold from all the messing about!

This is great - one pot and easy - fantastic with canned tuna or salmon stirred in just prior to serving or as a side mac cheese with plain grilled or baked fish.
Or you can make the classic 'Lobster Mac and Cheese'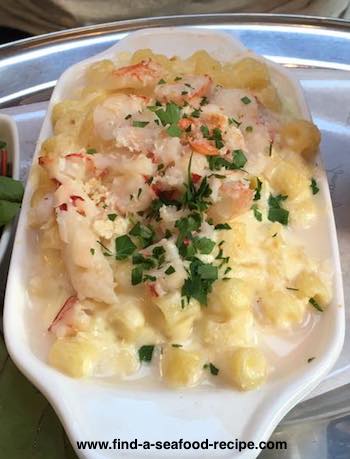 For this version, you could mix the cooked lobster with the slow cooker mac cheese, sprinkle a little extra cheese on top (or a lot!) and then flash under the broiler (grill). Sprinkle some fresh chopped parsley and serve to an appreciative audience who should give you a round of applause. 
---
It took 90 minutes on high and I'm guessing (but will test) that it would take 3 hours or so on low - probably a bit less. 

I'm giving US measurements, but there's a translation further down in the narrative for UK measurements

Slow Cooker Mac Cheese
1 1/2 C evaporated milk

1 1/2 C whole milk
1/4 C butter
3 C grated hard cheese
8 oz (that was 2 C) macaroni - short cut
2 T oil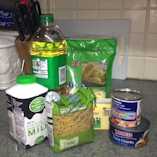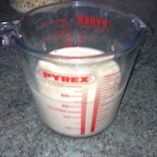 Here's the evaporated and ordinary milk - around 1/2 pint each
I used 2 small tins of evap which came to 1/2 pint or so.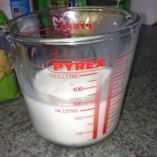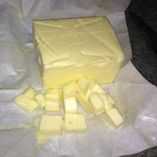 Dice the butter - about 2 oz or 50 g
8 oz or 250 g grated cheese is the rough equivalent of 3 C
I used cheddar.
Brush the inside of the slow cooker with oil to prevent sticking.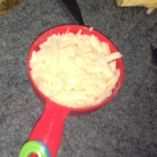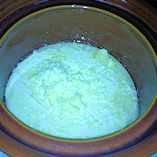 Put all those ingredients into the slow cooker - I did it this way so that I could stir it properly before cooking.
8 oz or 250g short cut macaroni next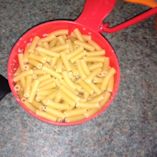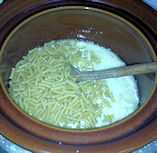 Tip the macaroni in and stir.
Put the lid on and check after about 30 minutes - give it a stir.
As you can see, it's looking creamy.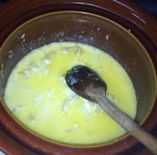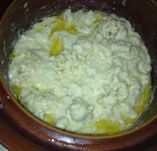 Here's the mac cheese in the slow cooker when it's done - it took 90 minutes on high.

I gave it a stir after 30 and 60 minutes.

I did add oil (2 T) as you can see, it sat on top but it blended in as we got down the dish.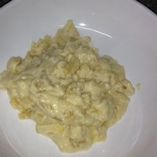 And here it is - it tasted divine - I couldn't believe how creamy and cheesey it was!
I will definitely be doing this again - it was so simple.
One pot to wash up as well instead of 2 pans and a serving/warming dish!

You may also like these recipes
Some of the links on this site include affiliate links, providing Find-a-Seafood-Recipe a small percentage of the sale at no additional cost to you. 

Subscribe to Seafood Recipe News - complete the form below.
Your email address is secure and will *only* be used to send Seafood Recipe News. When you confirm your subscription, you will be taken to a page where you can access your free eCourse. Complete the form and it will arrive over the following five days.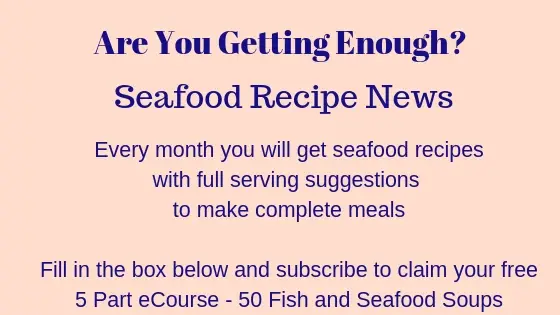 Mac and Cheese
By Liz Alderson, Mar 25, 2016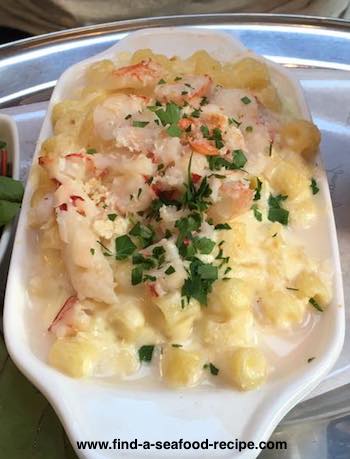 Mac and Cheese is a great side with plain cooked seafood - you can add lobster, crab or shrimp to make it a one pot meal. This recipe takes 90 minutes in the slow cooker - step by step instructions with photos - leaving you one pot to wash up - perfect.
Prep Time: 10 minutes

Cook time: 90 minutes

Yield: 4

Main Ingredient: pasta, milk, cheese