Shrimp Scampi Recipe
As an Amazon Associate I earn from qualifying purchases.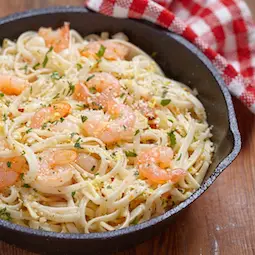 This shrimp scampi recipe is a classic Italian-American dish.
The shrimp are large.
'Scampi' is otherwise known as langoustines or Dublin Bay Prawns and they are small lobster like shellfish.
The Italians call shrimp 'gamberetto' and 'scampi' is normally just the menu name for large shrimp which will often be served over hot pasta or rice.
They are most frequently cooked in garlic, wine and butter, sprinkled with herbs and lemon, then mixed into the pasta.
The shrimp scampi will take just a few minutes to cook, so make sure the pasta is ready.
---
Shrimp Scampi Recipe
2 Tablespoons butter
2 Tablespoons olive oil
4 crushed garlic cloves
1/2 cup white wine or fish stock
ground black pepper
1/2 teaspoon red pepper flakes
1 3/4 lbs large shelled shrimp
1/3 cup fresh chopped parsley
squeeze fresh lemon juice
Hot cooked pasta to serve
Melt the butter in a skillet and add the olive oil, allow it to heat through.
Add the garlic and cook it gently so that it softens. That should take around a minute - don't let it color. 
Add the white wine, black pepper and pepper flakes, bring it up to a simmer and allow it reduce by half - about 2 minutes.
Add the shrimp and move them around the skillet to cook - let them just turn pink or they will become tough.
Stir in the parsley and lemon juice, and again let the sauce bubble for a few seconds.
You can either serve shrimp scampi  with crusty bread to mop up the gorgeous juices or stir it into hot pasta - a think linguine is best.
I like parmesan cheese with it - it's not typical, but I just love fresh parmesan cheese and anything vaguely Italian is enough of an excuse for me to use it!
It makes a fabulous appetizer - serve on small, hot dishes, spoon the juice over each portion equally and have some fresh crusty bread with it.
Cook's Tip
This method assumes you have bought fresh, raw shrimp which are a blue color - if you've bought cooked shrimp, then just let them heat through in the sauce - if you have bought frozen, then you *must* defrost them before you cook. You can buy frozen uncooked or cooked. 
The quick cooking time ensures that the shrimp do not toughen - they become very chewy if you overcook. 
You may also like these recipes
Some of the links on this site include affiliate links, providing Find-a-Seafood-Recipe a small percentage of the sale at no additional cost to you. 

Subscribe to Seafood Recipe News - complete the form below.
Your email address is secure and will *only* be used to send Seafood Recipe News. When you confirm your subscription, you will be taken to a page where you can access your free eCourse. Complete the form and it will arrive over the following five days.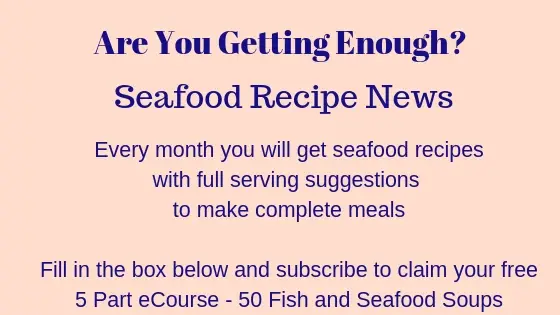 Shrimp Scampi Recipe
By Liz Alderson, Mar 30, 2016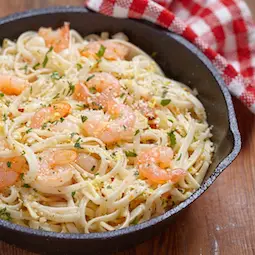 This shrimp scampi recipe is a classic Italian-American dish.
Prep Time: 5 minutes

Cook time: 2 minutes

Yield: 2 whole fish

Main Ingredient: shrimp