Barbecue Shrimp
As an Amazon Associate I earn from qualifying purchases.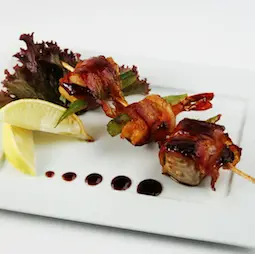 Mike from Gas Grill Review has sent this barbecue shrimp recipe. Check out his site - it's a fantastic place to compare the brands of gas and charcoal grills available and choose the right one for your needs. It's not all gas :-)
---
It's hard to go wrong with BBQ Shrimp, especially when it's wrapped in bacon. But I'm not going to let you take any chances here. This recipe is sure to be a big hit as an appetizer for your next party, barbecue party or otherwise.
What sets this apart from an appetizer cooked in the oven? Anyone?
OK, it's simple really. You can't include wood smoke in your oven and that makes all the difference in the world. It's just one of those things that's kind of hard to explain if you've never cooked anything on a charcoal grill.
Done properly, and with the right kind of wood (chip or chunk), you will add a flavor that will simply capture you. It's something that's really hard to shake once you've got it in your blood.
Barbecue Shrimp Wrapped In Bacon
Control Panel
Serves: 6 - 8
Cooking Method: Indirect Heat
Suggested Wood: Hickory, Apple, Oak or Maple
Cooking Time: 17 Minutes
Basic Ingredients
30 Basil Leaves, Coarsely Chopped 

2 Tablespoons Freshly Grated Parmesan Cheese
1 Teaspoon Fresh Minced Garlic
30 Large Shrimp (21- 25 count per pound), peeled with tail shells on
15 Thin Bacon Slices, cut in half
Sauce
1-1/4 Cups BBQ Sauce (Buy it or make your own)
1/4 Cup Applesauce
1/4 Cup Pure Maple Syrup
1 Tablespoon Balsamic Vinegar
OK, Let's Cook
The first thing to do to cook the barbecue shrimp wrapped in bacon is create the stuffing.
To do this, mix the basil, cheese and garlic.
Once you've done that, make a deep cut down the back of each shrimp and remove the vein. Then take 1/2 teaspoon of the mix and fill each cut with it.
Then wrap each shrimp with 1/2 slice of bacon and tuck in the loose end or use a toothpick. Only the tail should be exposed.
Now, it's time to get your grill going. Build a charcoal, wood or charcoal and wood fire and set it up for indirect cooking by putting the coals on one side (there are various approaches for different types of charcoal grills).
Once the grill reaches 400° F, place the shrimp on the the side of the grills without the coals and you point the tails up.
Close the lid (yes, grilling is not done with the lid open) and cook the shrimp for 14 minutes. Drain the shrimp on a paper towel lined platter.
Now combine the ingredients for the sauce together in a small bowl.
Take each shrimp by the tail and dip it in the sauce. Then return it to the grill on the side away from the coals. Close the lid and cook for about 3 more minutes; or enough time for the sauce to carmelize.
Serve it hot!
You may also like these recipes
Some of the links on this site include affiliate links, providing Find-a-Seafood-Recipe a small percentage of the sale at no additional cost to you. 

Subscribe to Seafood Recipe News - complete the form below.
Your email address is secure and will *only* be used to send Seafood Recipe News. When you confirm your subscription, you will be taken to a page where you can access your free eCourse. Complete the form and it will arrive over the following five days.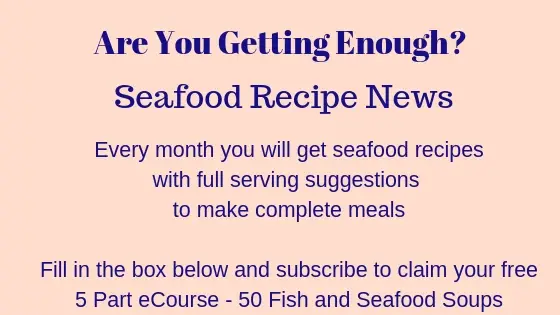 Barbecue Shrimp
By Liz Alderson, Mar 30, 2016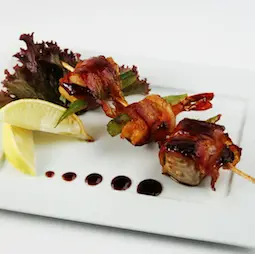 Just gorgeous - combination of juicy shrimp wrapped in bacon and cooked on the grill. Is there anything you could imagine more tasty?
Prep Time: 5 minutes

Cook time: 10 minutes

Yield: 6

Main Ingredient: shrimp, bacon, barbecue sauce