Seafood Rice Recipe
As an Amazon Associate I earn from qualifying purchases.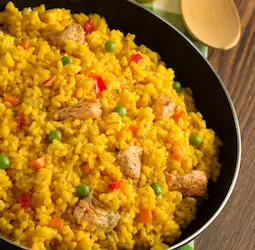 A simple seafood rice recipe using curry paste and shrimp (prawns) mixed with cooked rice.
This is a good recipe for using up leftover rice - you can cook double amount one day and freeze half to use in this recipe.
It will give you an easier meal for a night when you don't have much time to cook.
You can serve this with a salad which will give a good contrast to the heat of the rice dish.
Use a ready made curry paste - you can make your own, but it will be more labor intensive and there are such good jars of paste out there, it's a shame not to use them.
I use a madras strength paste - it sounds hot, but it really isn't - it's the base of every curry that I cook.
So - here's the seafood rice recipe... it will serve 2 to 3 people depending on their appetites and how many 'bits' you serve with it :-)
---
Spiced Shrimp Pilaf

9 oz (250g) rice - dry weight - cooked
Boiling water
1 tablespoon curry paste
2 tablespoons oil
2 tomatoes - skinned, cored and cut into 8s
1 onion - peeled and finely sliced
8 oz (225g) frozen peas
8 oz (225g) cooked peeled prawns (shrimp)
cup of cooked diced chicken (optional)
Chopped coriander or parsley to serve

Cook the rice according to the instructions on the packet - rinse and drain.
Heat the oil in a large pan.
Add the onion and fry for around 3 minutes until soft and golden.
Add the tomatoes and cook a further 5 minutes - the tomatoes need to break down into the onion.
At this point, you may need to add a few tablespoons of boiling water - just tip a bit in out of your kettle and stir round - if the mixture looks like it's drying out, add some more - if it looks OK, then keep going to the next stage.
Add the curry paste and cook for 5 minutes.
Once again, add boiling water from your kettle if you think you need to.
Add the rice and peas, stir thoroughly until they are heated through - at this point, you may need to add some more water if the mixture looks dry.
Add the prawns (shrimp) and stir again - keep stirring for 2 or 3 minutes - the water by now should have been absorbed into the sauce.
It should all be very hot prior to serving.
Tip out onto plates and scatter chopped coriander or parsley over. You can use some unpeeled shrimp to garnish if you like - depends on the finances ;-) 
It's a very simple meal to cook and very tasty.
Add some poppadoms, mango chutney, yoghurt sauce and some naan bread.
If you've enjoyed this seafood rice recipe, check out these
Some of the links on this site include affiliate links, providing Find-a-Seafood-Recipe a small percentage of the sale at no additional cost to you. 

Subscribe to Seafood Recipe News - complete the form below.
Your email address is secure and will *only* be used to send Seafood Recipe News. When you confirm your subscription, you will be taken to a page where you can access your free eCourse. Complete the form and it will arrive over the following five days.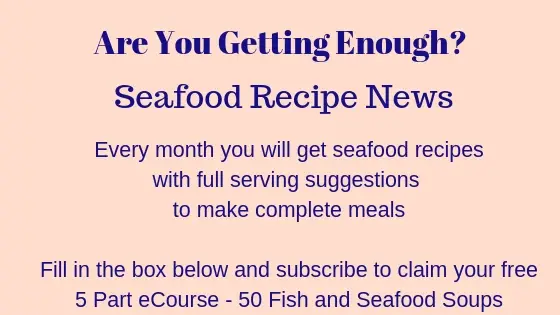 Seafood Rice Recipe
By Liz Alderson, Mar 25, 2017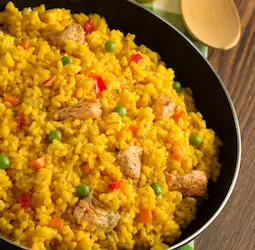 Super simple seafood rice recipes - Shrimp Pilaf, spicy one pot dish.
Prep Time: 10 minutes

Cook time: 20 minutes

Yield: 4

Main Ingredient: rice, shrimp, curry, tomatoes