Seafood Stew
As an Amazon Associate I earn from qualifying purchases.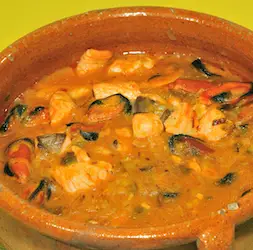 This seafood stew uses haddock and mixed seafood cocktail. 
You could use any white fish and mussels, whelks, cockles or whatever mixture of frozen seafood you prefer.
A mixture of wet and smoked haddock would be nice as it would give a bit of smoky flavor to the stew.
Avoid oily fish such as tuna, salmon, mackerel and similar. They do tend to make a layer of grease.
If you like your stews a bit thicker, then you could either use cornstarch (cornflour) for thickening or finely grate half of the potato into the cooking liquid.
This will thicken up the liquid quite effectively.
A complete meal in one pot which is good for washing up :-)
---
Mixed Fish Stew
1lb (450g) haddock - skinned, boned and cut into bite sized chunks
1lb (450g) seafood cocktail - defrosted
1 onion - peeled and chopped
1 clove garlic - peeled and crushed
2 fish stock cubes with 1 pint water or 1 pint fish or vegetable stock
1 can chopped tomatoes or passata 
1.5 lbs (675g) peeled cubed potatoes
1 tbspn olive oil
8 oz (225g) peas or mixed veg - defrosted
handful fresh chopped parsley
salt and pepper to taste

Heat the oil in a large pan and gently fry the onion and garlic until softened.
Add the stock and tomatoes (if using cubes, dissolve in 1 pint of boiling water) and bring to the boil.
Add the potatoes and simmer for about 10 minutes or so until they're tender.
Add the fish and peas and simmer for 2 minutes.
Add the seafood cocktail and parsley and simmer for a further 2 minutes.
Serve immediately - I like crusty bread and butter with this (actually, I like crusty bread and butter period)
You may also like these recipes
Some of the links on this site include affiliate links, providing Find-a-Seafood-Recipe a small percentage of the sale at no additional cost to you. 

Subscribe to Seafood Recipe News - complete the form below.
Your email address is secure and will *only* be used to send Seafood Recipe News. When you confirm your subscription, you will be taken to a page where you can access your free eCourse. Complete the form and it will arrive over the following five days.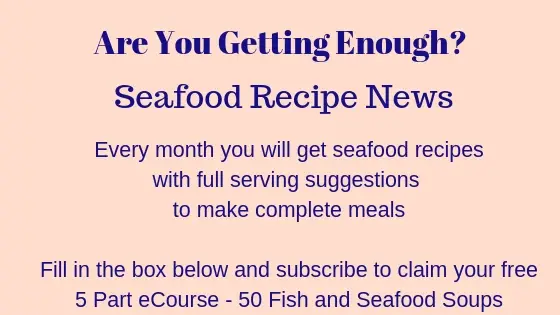 Find A Seafood Recipe

>
Seafood Stew Recipes
> Seafood Stew
Seafood Stew
By Liz Alderson, Mar 27, 2017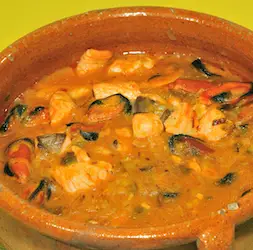 Really tasty, quick and easy to make seafood stew. Great one pot meal for a simple family meal.
Prep Time: 10 minutes

Cook time: 20 minutes

Yield: 4

Main Ingredient: white fish, seafood cocktail, potatoes, peas, tomato