Seafood Soup Recipe Bouillabaisse
As an Amazon Associate I earn from qualifying purchases.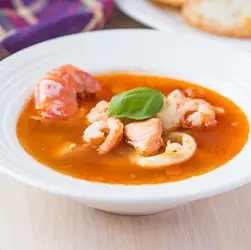 Seafood soup recipe bouillabaisse
Try a mixture of any firm white fish and shellfish such as whiting, cod, haddock, cooked shrimp and mussels. 
I would always use mussels and prawns, but the other fish I chose would depend on what looked good on the day.
Avoid oily fish such as salmon, mackerel, fresh tuna, sardines etc - they tend to make a soup a bit greasy and are best avoided.
---
Seafood soup recipe bouillabaisse

2 lb (900g) mixed fish (as above)
1lb (450g) mussels, scrubbed and bearded
1/4 pint (150ml) white wine
olive oil
2 onions, peeled and chopped
3 cloves garlic, peeled and crushed
2 sticks celery, destring and chop
1lb (450g) peeled and thinly sliced potatoes
1 pint (700ml) tomato juice or passata
2 bay leave
sprig parsley
sprig thyme
2 pieces of orange peel
pinch of saffron strands or 1 tspn saffron powder
creme fraiche, double cream or soured cream to serve
chopped fresh parsley to serve
Clean and cut the fish into quite substantial pieces - not too small.
Heat about 3 or 4 tbspns of olive oil in a heavy based pan and fry the onions and garlic until softened.
Add the celery and potatoes and fry for a further 2 minutes.
Add the tomato juice, herbs and orange peel and cook for about 5 minutes.
Add the mixed fish but not any shrimp you might be using and cook for a further 5 minutes.
Whilst you are doing this, put the wine in a pan and add the mussels - steam until they open.
Add the mussels, their juices and shrimp to the soup and heat through.
Pour into individual bowls and add a blob of cream and some fresh parsley.
Serve with crusty bread, garlic bread or croutons.
This recipe serves about 8 people as a starter or 4 for lunch.

You can prepare this in advance up to steaming the mussels and adding the shrimp.
You may also like these recipes
These pages have some lovely soup recipes too - give them a try with some fresh crusty bread and butter for a super easy lunch
Some of the links on this site include affiliate links, providing Find-a-Seafood-Recipe a small percentage of the sale at no additional cost to you. 

Subscribe to Seafood Recipe News - complete the form below.
Your email address is secure and will *only* be used to send Seafood Recipe News. When you confirm your subscription, you will be taken to a page where you can access your free eCourse. Complete the form and it will arrive over the following five days.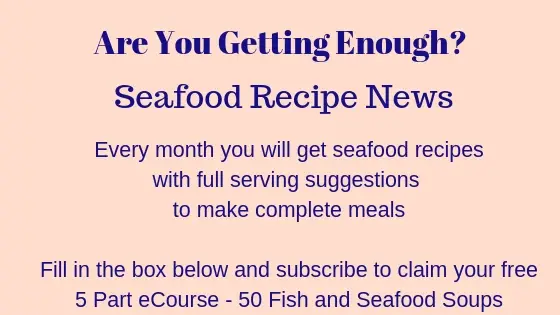 Bouillabaisse
By Liz Alderson, Mar 30, 2016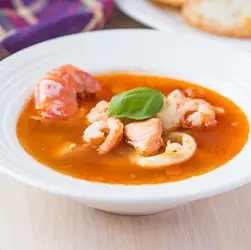 This Bouillabaisse recipe is versatile and can be done with a mixture of any firm white fish and shellfish such as whiting, cod, haddock, cooked shrimp and mussels.
Prep Time: 2 minutes

Cook time: 12 minutes

Yield: 4

Main Ingredient: mixed fish, mussels