Salmon Salad
As an Amazon Associate I earn from qualifying purchases.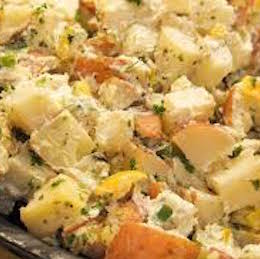 This salmon salad recipe is excellent as part of a buffet or a family meal.
These quantities will serve four people for a main course with bread and a mixed salad as a side dish.
You could easily make this an appetizer to serve 6 people or a buffet dish for 8 people. It would be lovely served outdoors on a summer's day, with a bottle of something cold and fizzy! 
It's simple enough to adjust quantities to serve more or less people.
You need some ready cooked salmon - or a can of salmon.
The dill dressing is one that you can use any time.
It can be prepared a few hours ahead of serving - just chill in the fridge and bring out about 20 minutes before serving to allow the flavor to come out.
When you're making it, you need quite a large bowl to mix it - if you don't use a large enough bowl, then you won't be able to mix it up gently - the bits will come out over the side and the result will be mashed salmon rather than the larger chunk you are aiming for.
---
Salmon Salad

1 lb (500g) cooked salmon
1/2 lb (250g) cooked peeled shrimp (prawns)
1 lb (500g) cooked new potatoes - cubed
1 bunch scallion (spring onions) - finely sliced
bunch watercress
Dressing
250 ml (7fl oz) sour cream
2 tablespoons lemon juice
few sprigs of fresh dill - finely chopped
4 tablespoons milk
1 oz (25g) gherkins - finely chopped
1 teaspoon mustard - dijon or fine grain

Take a large bowl and flake the salmon into it - if you're using canned salmon, then remove the 'gungey bits'. You need pure pieces of salmon for this dish and it might be best to use 2 cans or a very large one. 
Add the prawns to the bowl.
Mix the sliced potatoes and onion into the salmon and prawn.
Stir the dressing ingredients together.
Take half the dressing and mix into the salmon, prawn and potatoes.
Arrange the watercress over the serving plate.
Spread the salmon mixture over it.
Spoon the remainder of the dressing over and serve.
Cook's Notes

This dressing recipe would make an excellent coleslaw type salad - shredded cabbage, carrots, onion and anything else you fancy in a bowl and the dressing stirred in. 
You may also like these recipes
Some of the links on this site include affiliate links, providing Find-a-Seafood-Recipe a small percentage of the sale at no additional cost to you. 

Subscribe to Seafood Recipe News - complete the form below.
Your email address is secure and will *only* be used to send Seafood Recipe News. When you confirm your subscription, you will be taken to a page where you can access your free eCourse. Complete the form and it will arrive over the following five days.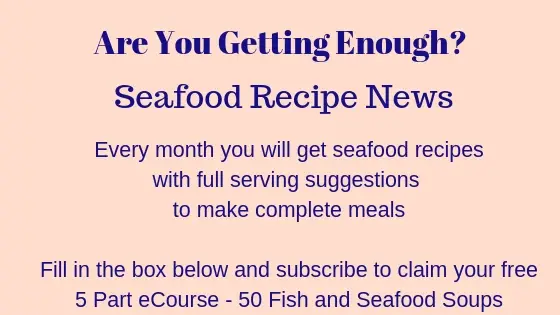 Salmon Salad
By Liz Alderson, Mar 30, 2016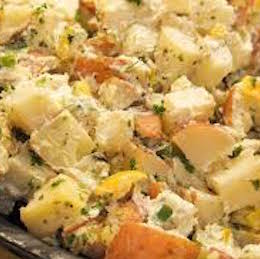 You can use fresh or canned salmon for this salmon salad. Great for a buffet meal or taking on a picnic.
Prep Time: 20 minutes

Cook time: 0 minutes

Yield: 4

Main Ingredient: salmon, potato, scallions