Seafood Paella Recipes
As an Amazon Associate I earn from qualifying purchases.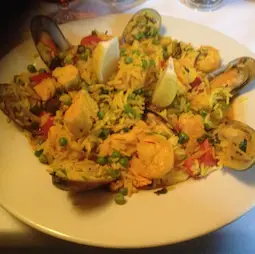 Here are some a couple of seafood paella recipes for you to have a go at and then add some variations to make your own.
When you decide to cook a seafood paella, you need to look at your fish supplier, to see what there might be to ring the changes for your seafood. 

I will give you a basic paella recipe and the availability of the seafood at your supplier, will give you your variations. 
---
Seafood Paella
1lb (500g) mussels, bearded and scrubbed
1 glass white wine
4 tbspns olive oil
8 oz (250g) monkfish, skinned and cubed
12 oz (375g) cod fillet, skinned and boned
8 oz (250g) large prawns in their shells
1 onion, peeled and chopped
2 garlic cloves, peeled and crushed
1 teaspoon paprika
14 oz (400g) canned plum tomatoes
4 oz (125g) frozen peas
8 oz (250g) rissoto rice or long grain rice
1 pint (600ml) stock - fish, vegetable or water
pinch of saffron, seeped in 1 tbspn warm water
freshly milled pepper
parsley to garnish

Put the mussels and wine in a pan and steam until opened.
Remove the mussels, strain the wine and add it to your stock.
Heat the oil in a large pan (paella pan or wok) and quickly fry off the monkfish for about 3 minutes.
Add the cod and prawns and fry for a further 5 minutes.
Remove the fish from your pan, cover to keep warm and you are ready to begin the next stage of your seafood paella.
Add more oil if necessary.
Cook the onions and garlic until softened.
Add the paprika, tomatoes, rice, peass, stock and saffron with its water.
Bring to the boil and cover the pan. Simmer for about 15 to 20 minutes until the rice is tender, stirring occasionally to prevent sticking.
The mixture should look creamy - if it begins to dry out, then add more liquid (wine, stock)
Return the seafood to the pan and mix thoroughly - allow it to heat through for a couple of minutes.
A few twists of black pepper, garnish with parsley and serve immediately.
You could change the seafood or substitute chicken pieces for the cod in the above seafood paella recipe - add squid, red mullet.
This is such an easy seafood paella recipe, it could be cooked by even a novice.
It is tasty and simple - slightly spicy with the paprika and very convenient to make.
You use frozen seafood which means that it can be a good storecupboard standby if you have unexpected guests or are just stuck as to what to cook.
Easy Paella
1 tablespoon olive oil
1 onion - peeled and finely chopped
1 clove garlic - peeled and crushed
1 teaspoon paprika
1 teaspoon dried thyme
300g (11 oz) rice - risotto or long grain
small glass white wine
400g can chopped tomatoes
900ml (1 1/2 pints) chicken, fish or vegetable stock
400g bag frozen mixed seafood
1/2 lemon juiced
parsley roughly chopped to garnish

You will need a large frying pan for this recipe - a chinese wok would possibly do.
If you don't have either, then just use a large saucepan.
Heat the oil and gently fry the onion and garlic until softened.
Add the paprika and thyme and stir.
Add the rice and stir quickly to coat with oil.
Add the wine and allow it to bubble for a minute or so.
Add the tomatoes and stock.
Let the liquid simmer and allow it to cook uncovered for about 15 minutes, stirring now and again.
The rice should be almost tender and some liquid should remain.
Add the frozen seafood and stir through well to distribute it evenly.
Cook a further 5 minutes when the rice should be tender, the liquid absorbed and the seafood hot.
Squeeze the lemon juice over and scatter with parsley.
Serve immediately.
Try a mixed salad and some crusty bread and butter to go with this.
You may also like these recipes
Some of the links on this site include affiliate links, providing Find-a-Seafood-Recipe a small percentage of the sale at no additional cost to you. 

Subscribe to Seafood Recipe News - complete the form below.
Your email address is secure and will *only* be used to send Seafood Recipe News. When you confirm your subscription, you will be taken to a page where you can access your free eCourse. Complete the form and it will arrive over the following five days.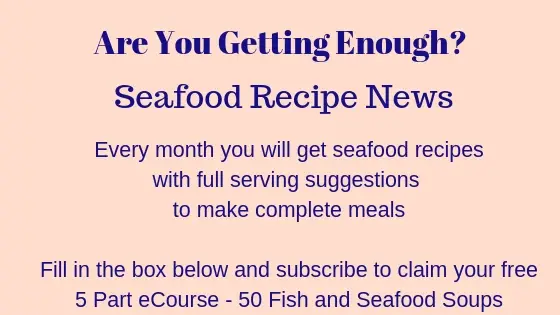 Seafood Paella Recipes
By Liz Alderson, Mar 26, 2017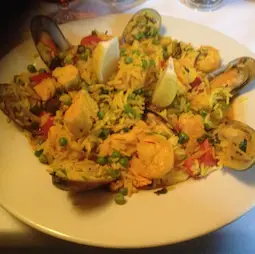 Two super seafood paella recipes, one an authentic paella the other an easier one that you can make any time.
Prep Time: 15 minutes

Cook time: 30 minutes

Yield: 4

Main Ingredient: seafood, rice, bell peppers