Recipe for Spanish Seafood Paella
As an Amazon Associate I earn from qualifying purchases.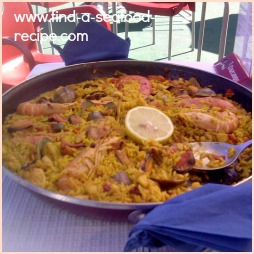 This authentic recipe for spanish seafood paella is one of many variations. 
This photograph here is by courtesy of my friend Dave Woodward, who left Kent on his boat in 2009 to travel as far as he could. The last stop was Cape Verde, which is pretty amazing for one man on a small yacht.
This looks one perfect paella and makes me feel very hungry.
It's tradition to serve garlic bread with it, sliced and arranged round the side of the pan.
---
Recipe for Spanish Seafood Paella

1 small chicken
dry white wine
2 pints (1.1litres) mussels - scrubbed and bearded
1 small cooked lobster
1 squid - either rings or small whole squid
sliced chorizo sausage to taste
Olive oil for frying
1 red pepper - deseeded and diced
1 green pepper - deseeded and diced
1 large onion - peeled and chopped
2 cloves garlic - peeled and crushed
1lb (500g) long grain rice
Saffron strands
8 oz (250g) frozen peas

Cut the chicken into pieces and poach in about 5 fl oz (150ml) wine for 25 minutes until cooked through. Skin and cut into small pieces and reserve the stock that it makes.
Put 2 tbspns wine into a large frying pan and add the mussels - steam until open, then remove from the pan and leave to one side. Discard any that haven't opened and reserve the cooking liqour.
Cut the lobster into bite sized pieces and set to one side.
Fry the squid quickly in a little olive oil, drain and set aside.
Heat 2 tbspns olive oil in a large paella or frying pan. Add the peppers, onion and garlic and fry for 1 minute. Add the rice and coat in the oil. Pour in your fluid - twice the volume of rice made up out of the reserved cooking liquors and water.
Bring to simmering point and then add your saffron - stir well, then turn the heat down under your pan.
Now's the hard bit - cover (either with a lid or foil) and leave it for 10 minutes - no peeping as the cooking time will be extended and you might get grains of rice that are not cooked in the finished dish - so LEAVE IT ALONE - DO NOT TOUCH!
Add the cooked chicken, sausage and seafood, stir well and cover - leave to cook for about 5 minutes.
Then add the peas, stir well, cover and leave a further 5 minutes. 
If it looks like it's drying out at any point (ie when you add the chicken or the peas) then add a spot more water, but the whole point of this is that the cover steams the rice as well as it cooking from the bottom.
All should be cooked perfectly if you have got the volume of fluid to rice balanced.
This recipe for spanish seafood paella is very versatile - you can use large dublin bay prawns, crayfish, clams - any mixture of shellfish you prefer.
When you weigh your rice it is a good idea to then put it into a measuring jug to see exactly what volume it is - then it is a simple job to double up the volume of fluid.
You may also like these recipes
Some of the links on this site include affiliate links, providing Find-a-Seafood-Recipe a small percentage of the sale at no additional cost to you. 

Subscribe to Seafood Recipe News - complete the form below.
Your email address is secure and will *only* be used to send Seafood Recipe News. When you confirm your subscription, you will be taken to a page where you can access your free eCourse. Complete the form and it will arrive over the following five days.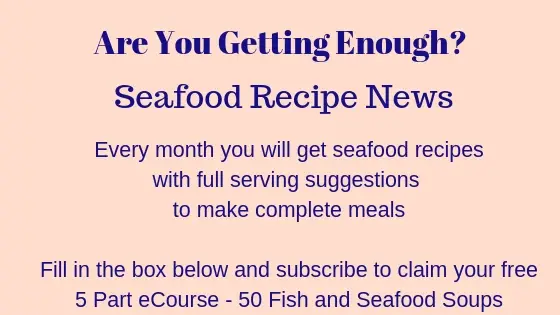 Spanish Seafood Paella
By Liz Alderson, Mar 30, 2016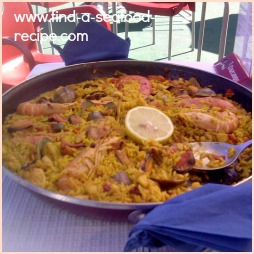 This Spanish Seafood Paella recipe is traditionally served with garlic bread, sliced and arranged round the side of the pan.
Prep Time: 25 minutes

Cook time: 20 minutes

Yield: 2

Main Ingredient: chicken, lobster, squid