A Luxurious Recipe for Seafood Newburg
As an Amazon Associate I earn from qualifying purchases.

Seafood Newburg is a very rich and luxurious dish - great for special occasions. 
It can sometimes be spelt newberg or newburg.
This is a recipe I have used which is quite authentic.
You can serve it over rice or noodles. 
If you make it as a starter, then serve over toast triangles. You can use it to stuff vol au vents for a buffet or use it to fill a puff pastry pie - it is very versatile.
---
Seafood Newburg
8 oz (225g) Shrimp (prawn)
8 oz (225g) Scallops
8 oz (225g) Lobster
4 oz (110g) basa fish fillet
1 small onion - finely chopped
4 oz (100g) butter
1 pint (700 ml) single cream
6 egg yolks - beaten
4 fl oz (100 ml) sherry (optional)
paprika
Salt and pepper to taste

If the seafood is not already cooked, then poach very gently in some white wine - be careful to undercook, as shellfish toughens easily and the seafood is going to be reheated when combined with the sauce to make the finished dish.
Drain and place on one side. Freeze the white wine liquor for a later use as a fish sauce.
At this point, you might like to flame the seafood in the sherry - this is optional - but if you do, then it must only have been very lightly poached beforehand.
The flambeing, does however, add a great richness to the dish. CAUTION - seafood can toughen very easily - so the minimum of cooking prior to combining with the sauce.
Saute the onion in the butter - very gently, as you do not want the onion to brown, just soften. If you have decided not to flambe the seafood, then you could add the sherry to the onion mixture and reduce it to cook off the alcohol.
Put the cream into a pan and bring it just up to boiling point, then beat some of the hot cream into the egg yolks.
Pour this cream and egg yolk mixture back into the pan with the cream, cook over a low heat, stirring constantly until it thickens.
Add the softened onions and sherry mixture.
Add salt, pepper and paprika to taste.
Take the cooked seafood and add it to the sauce.
Heat and pour the finished dish over either hot noodles, quartered toast (toast points), pasta shells or you could place this into vol au vent cases and allow it to set, thereby creating Seafood vol au vents.



You may also like these recipes
Some of the links on this site include affiliate links, providing Find-a-Seafood-Recipe a small percentage of the sale at no additional cost to you. 

Subscribe to Seafood Recipe News - complete the form below.
Your email address is secure and will *only* be used to send Seafood Recipe News. When you confirm your subscription, you will be taken to a page where you can access your free eCourse. Complete the form and it will arrive over the following five days.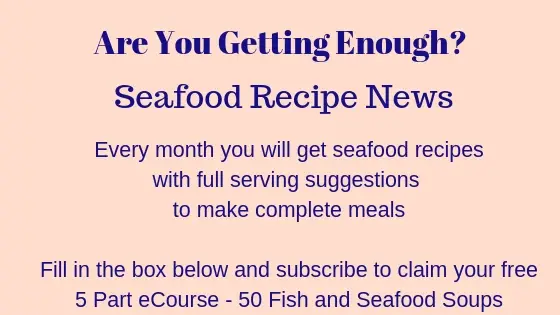 Seafood Newburg
By Liz Alderson, Mar 26, 2017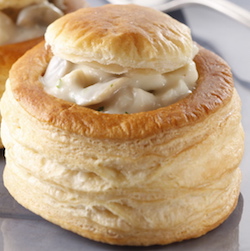 A very rich seafood mixture in a savoury white sauce can be used to stuff vol au vents or you can serve it over rice or toast.
Prep Time: 15 minutes

Cook time: 30 minutes

Yield: 4

Main Ingredient: shrimp, scallops, lobster mixture , cream, eggs