Seafood Jambalaya Recipe
Spicy Seafood and Rice Dish
As an Amazon Associate I earn from qualifying purchases.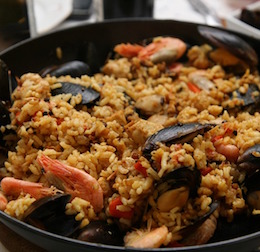 I love rice dishes - they're so easy to cook and this seafood jambalaya recipe is cooked in one pot - fantastic - served straight to the table and only one pot to wash up.
The combination of rice with seafood is great - it's spiced up with chilli powder, so if you like things hotter or milder, adjust how much you use - the 1/2 teaspoon will give you a strength that you should just be able to taste.
Lots of countries have their fish and rice dishes, paella, biryani and jambalaya is a variation on a theme. Some sort of shellfish (mussel and shrimp here) and a meat (chicken) are often the combination. A lot of people like to add rabbit to their mixed rice dishes - not for me, I love fluffy little bunnies and couldn't quite see myself eating one. 
---
Seafood Jambalaya

2 tbspns olive oil
4 rashers bacon, chopped
1 onion, peeled and chopped
1 clove garlic, peeled and crushed
12 oz (350g) white long grain rice
1 to 2 pints (570 - 1200ml) water/chicken stock
1/2 tspn chilli powder
1 red pepper, deseeded and chopped
14 oz (400g) canned plum tomatoes
1 tbspn tomato puree
8 oz (225g) mussels, cooked and shelled
4 oz (110g) diced cooked chicken
8 oz (225g) cooked peeled shrimp (prawns)
chopped parsley to garnish

Put the oil in a heavy based pan (with a lid) and fry the bacon until crisp.
Remove the bacon, add the onion and garlic clove and soften gently.
Add the rice and stir round to coat with the oil.
Add the water/stock, chilli powder, green pepper, peas, tomatoes and tomato puree. Bring to the boil, turn the heat down, cover the pot and simmer for about 15 minutes - check the dish and if it looks like it's boiling dry, then add some more water/stock.
Start with about a pint,  leave it for three minutes, then add half a pint and keep checking over the rest of the cooking time.  The rice will absorb twice its weight in liquid, you will have some liquid in the tomatoes, oil etc but it will need much more. 
Add the mussels, chicken and prawns. Cook for a further 5 minutes until the rice is tender.
Sprinkle fresh chopped parsley and serve.
A wonderfully easy jambalaya recipe.
You may also like these recipes
Some of the links on this site include affiliate links, providing Find-a-Seafood-Recipe a small percentage of the sale at no additional cost to you. 

Subscribe to Seafood Recipe News - complete the form below.
Your email address is secure and will *only* be used to send Seafood Recipe News. When you confirm your subscription, you will be taken to a page where you can access your free eCourse. Complete the form and it will arrive over the following five days.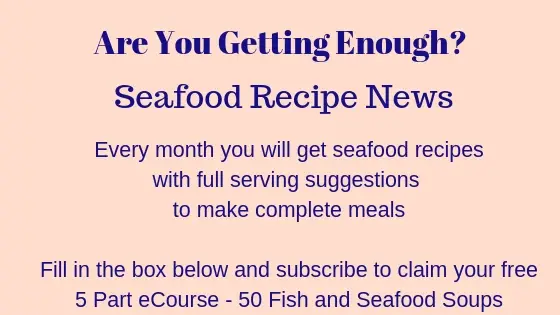 Seafood Jambalaya Recipe
By Liz Alderson, Mar 25, 2017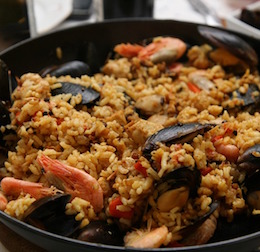 A really tasty fish, chicken and rice combination. One pot, straight to the table to serve and minimal washing up. My kind of food.
Prep Time: 15 minutes

Cook time: 20 minutes

Yield: 4

Main Ingredient: mussels, shrimp, rice, chicken