Seafood Gumbo Recipes
Cajun, Louisiana, New Orleans
As an Amazon Associate I earn from qualifying purchases.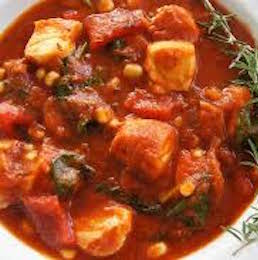 Seafood Gumbo is Cajun/Creole by origin - brought in from Nova Scotia by the French settlers to Louisiana. They loved their fish boulliabaise, but had to substitute local ingredients.

With the addition of ingredients by the Spanish and Africans, boullibaise evolved into Gumbo.
It has many variations and is a mainstay of New Orleans cooking.
Okra, roux or file powder or a combination of all three are used as thickening -
CAUTION lab tests have found sassafras which is the main ingredient of file powder to cause liver cancer.
There are loads of different Gumbos, but the basic stew is broth over rice or potato. The rice or potato are traditionally prepared separately and combined in the serving bowl.The broth can contain either seafood or meat.
So once you have your basic Gumbo sauce recipe, you can add any combinations you like.
The original Seafood Gumbo was made with okra and it is the most common for Louisiana restaurant kitchens.
OK then - here goes. I will give a basic Gumbo recipe that you can adapt as you want to.
---
Seafood Gumbo
2 tbspns olive oil
8 oz (225g) chopped onion
4 oz (110g) chopped celery
8 oz (225)chopped red and green pepper
8 large okra - sliced
3 cloves garlic, peeled and crushed
1 tbspn Worcester Sauce
1 can (400g) peeled plum tomatoes
4 pints (2.5 litres) fish stock
1 tbspn combination of fresh basil,oregano and thyme
salt
pepper
8 oz (225g) firm white fish, cubed - cod, haddock, monk
8 oz (225g) oysters
8 oz (225g) peeled prawns (shrimp)
8 oz (225g) fresh crabmeat

To serve - boiled white rice
Take a large pot and heat the oil. Add the onions, celery, peppers and garlic and saute for a few minutes until slightly softened.
Add the okra, worcester sauce, tomatoes and simmer for about 5 minutes.
Add the fish stock, herbs and any juices from the fish - eg oyster liquor - bring to the boil and taste. Add salt and pepper as desired.
Allow the pot to simmer for about 20 minutes - skim off the liquor before adding the seafood.
Add the fish and allow to cook through - approx 5 minutes.
Put warm cooked rice into a bowl and serve your finished gumbo over it.
The addition of crusty bread, potato salad or sweet potatoes would make this into a really hearty meal.

You may also like these recipes
Some of the links on this site include affiliate links, providing Find-a-Seafood-Recipe a small percentage of the sale at no additional cost to you. 

Subscribe to Seafood Recipe News - complete the form below.
Your email address is secure and will *only* be used to send Seafood Recipe News. When you confirm your subscription, you will be taken to a page where you can access your free eCourse. Complete the form and it will arrive over the following five days.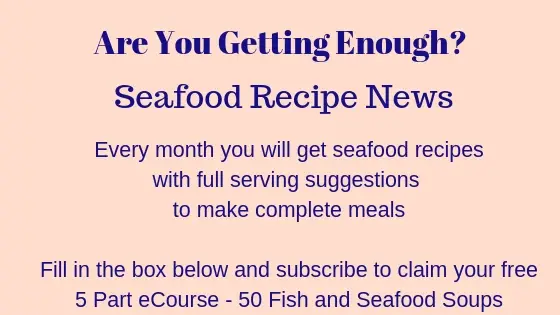 Seafood Gumbo
By Liz Alderson, Mar 25, 2017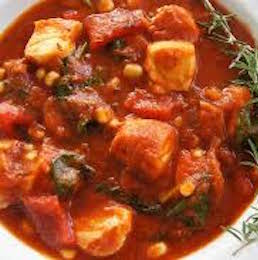 Authentically Creole Seafood Gumbo. Thickened with okra, this will be one of your go to recipes that you use over and over.
Prep Time: 15 minutes

Cook time: 30 minutes

Yield: 4

Main Ingredient: white fish, shrimp, crab, oysters, okra