Red Lobster Stuffed Mushrooms
As an Amazon Associate I earn from qualifying purchases.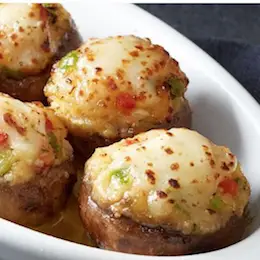 Red Lobster Stuffed Mushrooms -  Who says life's too short to stuff a mushroom? You haven't tried Red Lobster Stuffed Mushrooms - or you've got too much money :-)
These are exquisite and well worth the trouble.
This recipe is an authentic 'secret recipe'.
It's well worth seeking out these favorite family meals - you could easily save the cost of a holiday if you were to cook at home rather than go out once a week. Rubio's Fish Tacos is another meal that's easy enough to make at home and you can save yourself tons of cash by making 'fakeaways'. The recipe for that is here.
---
Stuffed Mushrooms

1 pound fresh mushrooms - button mushrooms are best
1/4 cup finely-chopped celery
1 small onion finely chopped
1 small red pepper finely chopped
1/2 pound crab claw meat
2 cups oyster crackers - crushed
1/2 cup shredded cheddar cheese
1/4 teaspoon garlic powder
1/2 teaspoon Old Bay Seasoning
1/4 teaspoon freshly-ground black pepper
1/4 teaspoon salt
1 egg
1/2 cup water
grated cheddar cheese

Preheat oven to 400 degrees.
Saute celery, onion, and pepper in butter for 2 minutes, transfer to a plate and cool.
Wash mushrooms and remove stems.
Set caps to the side and finely chop the stems.
Combine the sauted mixture, chopped mushroom stems, and all other ingredients apart from the grated cheese and mix well.
Put the mushroom caps in a casserole dish - spoon a teaspoon of stuffing into each mushroom.
Top with the grated cheese.
Bake in oven for 12 to 15 minutes until cheese is lightly browned.
Cook's Notes

Red Lobster is a chain of restaurants in the States. They serve a lot of different foods on their menu, but they are 'heavy' on lobster, shrimp, crab and other shellfish. Garlic Shrimp Skewers are one of their biggest sellers - the Red Lobster Biscuits are absolutely amazing and go with a lot of their dishes. They do a great Lobster Mac'n'Cheese, Shrimp, Lobster or Crab Alfredo - all those recipes are linked below. 


They are all dishes that are easy to recreate at home - these red lobster stuffed mushrooms are a fabulous appetiser or side dish to serve along with whole lobster. 
You may also like these recipes
Some of the links on this site include affiliate links, providing Find-a-Seafood-Recipe a small percentage of the sale at no additional cost to you. 

Subscribe to Seafood Recipe News - complete the form below.
Your email address is secure and will *only* be used to send Seafood Recipe News. When you confirm your subscription, you will be taken to a page where you can access your free eCourse. Complete the form and it will arrive over the following five days.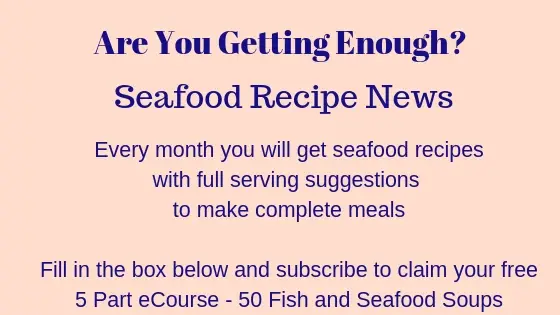 Recipe for Red Lobster Stuffed Mushrooms
By Liz Alderson, Mar 24, 2017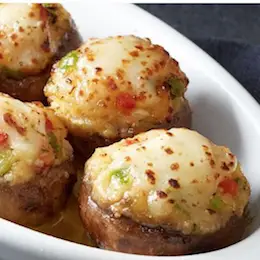 Gorgeous Red Lobster Stuffed Mushrooms - stuffed with crab.
Prep Time: 15 minutes

Cook time: 15 minutes

Yield: 4

Main Ingredient: mushrooms, crab meat, cheese