Recipe for Baked Salmon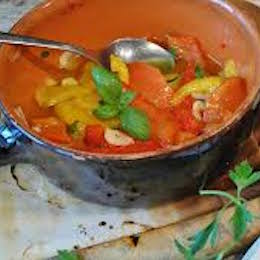 This recipe for baked salmon is very easy to put together.
Once prepared, it looks after itself.
The quantities will serve 4 but you could easily adjust it to serve 2 or more.
You can use fillets or steaks - the cooking time will be about the same.
---
Baked Salmon with Potatoes and Mediterrean Veg
1 kilo baby new potatoes
1 medium red onion
1 green pepper
1 red pepper
1 large courgette
about 16 cherry tomatoes
few basil leaves
4 salmon fillets or steaks
fresh black pepper
Sea salt
Olive oil

Heat your oven to gas mark 7, 425F or 220C.
Parboil the potatoes for 10 minutes.
Slice the courgettes into 1/4 inch (.5cm) slices.
Put into a sieve/colander and sprinkle a teaspoon of salt over - give the sieve a shake and allow the courgettes to rest for about 10 minutes. This will remove some of the water and make them less bitter.
Pat them dry with paper towel.
Cut the peppers into 1/2 inch (1 cm) chunks.
Peel and slice the onion.
Drain the potatoes and put all the vegetables into a large roasting tin.
Season with a few twists of black pepper and drizzle some olive oil over.
Mix the vegetables together to distribute evenly.
Bake for about 25 minutes then remove from the oven.
Stir throughly again - crush the tomatoes gently to release some juices.
Place the salmon on top of the vegetables and return the dish to the oven.
Bake a further 20 minutes - test if the salmon is cooked by pressing it with your finger - it should be firm to the touch and paler in colour.
If it's not ready, then cook a further 5 minutes.
Serve immediately - arrange a portion of cooked vegetables on the plate and place the salmon on top.
You may also like these recipes
Find A Seafood Recipe

>
Freshwater Fish Recipes
> Recipe for Baked Salmon
Baked Salmon with Mediterranean Veg
By Liz Alderson, Mar 23, 2017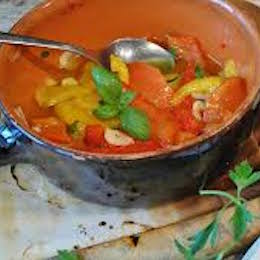 Super easy to make Baked Salmon with Mediterranean Veg.
Prep Time: 5 minutes

Cook time: 50 minutes

Yield: 4

Main Ingredient: salmon, zucchini, pepper, onion, potatoes, tomatoes
---
Some of the links on this site include affiliate links, providing Find-a-Seafood-Recipe a small percentage of the sale at no additional cost to you. You are not obliged to use these links to make a purchase, but if you do, it helps to support this site and keep the content free.

---
---