Grilled Basa Fish
As an Amazon Associate I earn from qualifying purchases.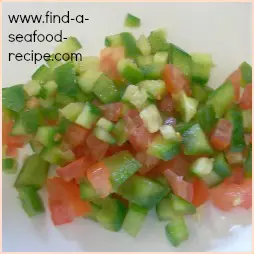 Here is a grilled basa fish recipe. The salsa is an interesting mexican style one.
I love salad but get very bored eating big pieces of cucumber, tomato, onion etc - I ALWAYS dice my salad vegetables and keep a bowl in the fridge ready to put on the side of many dishes.  
There's also a handy tip for making the dressing for the salsa.
The cooking time will depend on the thickness of the fillet. A simple way to tell, is if the fish is firm to the touch and looks 'flaky'. Watch your fingers - the grilled basa will be hot!

---
Grilled Basa Fish with Salsa Salad
4 basa fish fillets

oil for brushing
salt and pepper

Salsa

3 tbspn olive oil
2 tbspn white wine vinegar
1 tspn french mustard - dijon preferably
1/2 cucumber - diced
2 tomatoes - diced
1 avocado pear - diced
few green olives - sliced (optional)

Heat your grill (or barbecue) and brush the basa fish with olive oil - season with salt and pepper and cook 3 or 4 minutes either side - baste and season as you turn.
Meanwhile, take the olive oil, white wine vinegar and mustard and put into a glass jar with a lid - shake until thoroughly combined. This is an excellent way of making salad dressing.
You can use the jar to store it in the fridge - just give it a shake before you want to use it as the oil will separate.
Pour over the chopped vegetables and serve with the grilled fish.
Some plain potatoes and a salad would go well with this dish.
As with most fish recipes, you can substitute any fish you prefer or whatever looks good on the day you go to buy it.
Cod, haddock, pollack, whiting would all substitute for the basa - or try mahi mahi, tilapia, swordfish - anything you like.
Cook's Notes

When I'm watching my weight, a ready made chopped salad like this often stops me from preparing something much more fattening. I add a spoonful or two to a lot of meals, even a sandwich. If you keep this in a polythene box in the fridge, it will stay fresh for a few days. 

I chop up tomatoes, cucumber, bell pepper and add whatever else I might fancy. Some celery, radish and similar. If I want onion I tend to add that when I serve. Beetroot is something else that gets sliced in at the last minute. 
You may also like these recipes
Some of the links on this site include affiliate links, providing Find-a-Seafood-Recipe a small percentage of the sale at no additional cost to you. 

Subscribe to Seafood Recipe News - complete the form below.
Your email address is secure and will *only* be used to send Seafood Recipe News. When you confirm your subscription, you will be taken to a page where you can access your free eCourse. Complete the form and it will arrive over the following five days.