Lobster Thermidor

As an Amazon Associate I earn from qualifying purchases.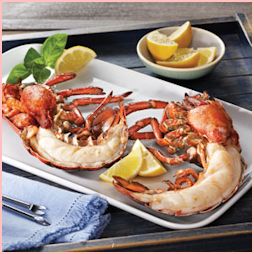 This recipe makes lobster thermidor so simple. You merely blend all the ingredients into the butter and then grill the lobster.
It's so much easier than the traditional  method and you can prepare the butter well in advance and freeze it for up to a month.
If you're making this for a dinner party, then that will help no end as you can have everything ready, just leaving the final few minutes of preparation to do before serving. 
This will serve four people as a starter or two as a main course.  It does depend on appetites as a whole lobster is very meaty and filling and some people may struggle to eat a whole one with added sides. It's up to you as you know your guests - plus there is the cost to consider. 
---
Lobster Thermidor

2 cooked lobsters
1/4pt (150 ml) dry white wine
1 shallot very finely chopped
handful of tarragon leaves, chopped (2 tspn dried)
handful of parsley leaves, chopped (2 tspn dried)
1 tspn Dijon mustard
1 tbspn lemon juice
pinch paprika
Dash tabasco sauce - to taste
5 tbspn fresh grated parmesan
5 oz (140g) softened butter

Simmer the shallot in the white wine until it's softened and nearly dry.
Combine this and the other ingredients into the butter then roll it in cling film and chill for about an hour. You can freeze this for one month.
To prepare the lobster, snap the claws off.
Then using a large chef's knife, cut them in two lengthways.
Remove the stomach sac and intestine that runs through the middle, then rinse out the cavity.
Dry with kitchen paper.
Lay the lobster, cut side up on a baking tray.
Crack the claws and remove the meat, then chop it and divide it equally between the four halves, filling up the head end.
Heat your grill to high.
Slice the butter into rounds and lay them on the lobsters.
Grill for 5 to 8 minutes, until the butter bubbles and turns brown.
Serve at once and pour any remaining butter onto the lobsters.
If you're serving this as a starter, then just add a wedge of lemon and a simple garnish of salad.
If it's a main course, try some buttered new potatoes and salad or asparagus would be wonderful to mop up the juices.
You may also like these recipes
Some of the links on this site include affiliate links, providing Find-a-Seafood-Recipe a small percentage of the sale at no additional cost to you. 

Subscribe to Seafood Recipe News - complete the form below.
Your email address is secure and will *only* be used to send Seafood Recipe News. When you confirm your subscription, you will be taken to a page where you can access your free eCourse. Complete the form and it will arrive over the following five days.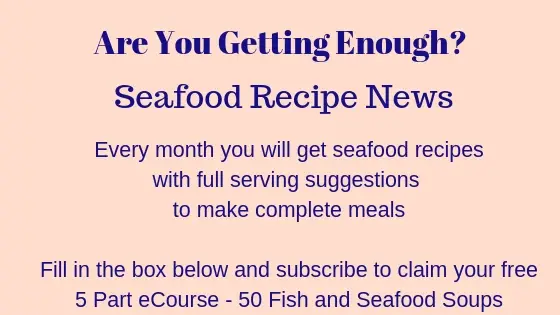 Lobster Thermidor
By Liz Alderson, Mar 20, 2017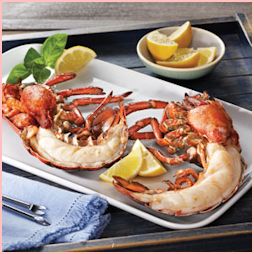 Luxurious Lobster Thermidor.
Prep Time: 20 minutes

Cook time: 10 minutes

Yield: 2 mains, 4 starters

Main Ingredient: lobster