Best Lobster Bisque Recipe
As an Amazon Associate I earn from qualifying purchases.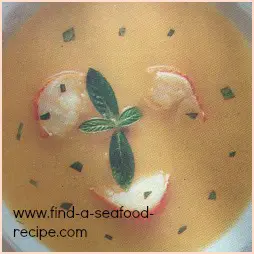 This is the best lobster bisque recipe I have ever found. It isn't the easiest, but there again, it isn't the most complex either.
It seems a bit extravagant using a whole lobster to make this soup, but it is very strong tasting and will go a long way.
There is a lot of flavour in the shell and that's why you need to use it in the stock.
In fact, in my 50 Fish and Seafood Soup Recipes (link at the bottom of the page for a free download) there is a recipe for Frugal Lobster Bisque which just uses the shell after you've eaten the lobster!
---
Best Lobster Bisque Recipe
You will need a quantity of fish stock - this link opens a new window.
Lobster Bisque
1 lobster - cooked
1 onion - peeled and finely chopped
1 carrot - peeled and finely chopped
2 sticks celery - finely chopped
2 tbspns olive oil
2 tbspns brandy
2 pints (1.1 litres) fish stock - this link opens a new window
1 Cup/5 fl oz (15 ml) white wine
1/4 Cup/2 oz (50g) long grain rice
1 small/7 oz (200g) tin tomatoes - pulped
black pepper
Creme fraiche or thick cream to serve

Take the meat from the lobster and put the shell in a clean tea towel. Pound it with a mallet or rolling pin to break it up.
Take a large pan, heat the oil and add the vegetables - sweat for a few minutes until softened then pile the lobster shell on top.
Put the brandy into a metal ladle, warm it and light it - pour it into the pan.
Then add 1.5 pints of the fish stock and all the wine - simmer for 20 minutes.
Boil the rice in the rest of the stock until it's creamy.
Strain the first fish stock liquid into another saucepan, pushing it through the sieve to get every last bit out.
Reheat this and add the chopped lobster meat. You could reserve a few pieces to float on the top of the bisque if you like.
Put the fish stock/rice mixture and tin of tomatoes into a blender - process until smooth.
Add this to the soup, stir and heat through - check the seasoning and adjust to taste.
Pour into warm bowls and add a dollop of creme fraiche or double cream.
Serve this lobster bisque with crusty bread and bowls of creme fraiche for your guests to spoon on.
You may also like these recipes
Some of the links on this site include affiliate links, providing Find-a-Seafood-Recipe a small percentage of the sale at no additional cost to you. 

Subscribe to Seafood Recipe News - complete the form below.
Your email address is secure and will *only* be used to send Seafood Recipe News. When you confirm your subscription, you will be taken to a page where you can access your free eCourse. Complete the form and it will arrive over the following five days.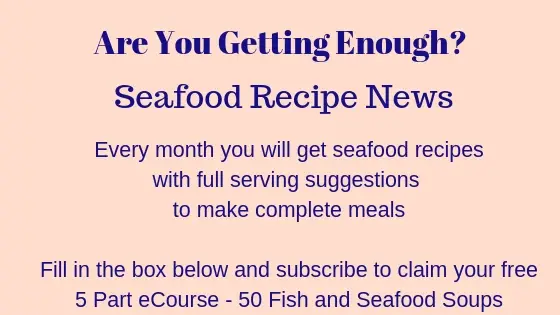 Best Lobster Bisque Recipe
By Liz Alderson, Mar 30, 2016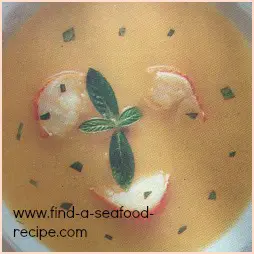 My best lobster bisque recipe. Use the lobster shell to make the stock and you'll have the most perfect lobster bisque.
Prep Time: 30 minutes

Cook time: 20 minutes

Yield: 6

Main Ingredient: lobster, rice, tomato