Fishcake Recipe
As an Amazon Associate I earn from qualifying purchases.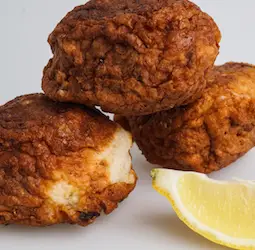 This fishcake recipe is very versatile.
People don't buy fish much - they're a bit scared as they don't know what to do with it.
As a consequence, you will often find fish in the 'marked down' section of any supermarket.
Peppered mackerel, wet fish, smoked fish - anything that's 'on offer' will do.
The horseradish is very good with mackerel - it cuts through the oiliness of the fish - if you use oily fish, then you must have horseradish - even a little bit if you're not keen on the hotness of it.
8 ounces of fish will be enough to make this fish cake recipe - that can be any mixture you like - more fish will make 'meatier' fish cakes, but as a minimum, aim for around 8 ounces.
To make breadcrumbs, take some slices of bread and either process them in a food processor/blender or work through a grater.  You could also use Panko breadcrumbs if you prefer.  Have a read of the little tip box below to see what you can substitute. 
You can serve these as a starter with some dips - have a look on the Fish Sauces section for some ideas - or as a main course.  I like to have bread and butter with these for lunch with some salad and a tasty dressing, maybe a glass of something too, perhaps even something fizzy! 
Cook's Notes

If you're short of time for making breadcrumbs and you don't have any Panko, then take a couple of tablespoons of all purpose flour (plain flour) and season it with some pepper and some (optional) dried herbs. 

Herbs to go with fish could be dill, parsley or chives for example. 

Then dip each fish cake in the flour, then in the egg, then again into the flour, making sure you've coated it all over. 
---
Fishcake Recipe
1lb (450g) cold mashed potato
finely chopped medium sized onion or spring onions (scallions)
1 tablespoon horseradish sauce
8 oz (225g) cooked fish - smoked peppered mackerel or similar
2 tablespoons flour
1 beaten egg
breadcrumbs - about 3 tablespoons
Oil for frying

Take a large bowl and mix together the potato, onion, horseradish and fish.
Divide the mixture into 8 and form into flat cake shapes.
Roll the fishcakes into the flour, then dip in the beaten egg and coat with breadcrumbs.
Allow to chill in the fridge if you have time for about 1 hour.
Shallow fry the fishcakes for about 5 minutes either side until golden and hot all the way through.
You may also like these recipes
Some of the links on this site include affiliate links, providing Find-a-Seafood-Recipe a small percentage of the sale at no additional cost to you. 

Subscribe to Seafood Recipe News - complete the form below.
Your email address is secure and will *only* be used to send Seafood Recipe News. When you confirm your subscription, you will be taken to a page where you can access your free eCourse. Complete the form and it will arrive over the following five days.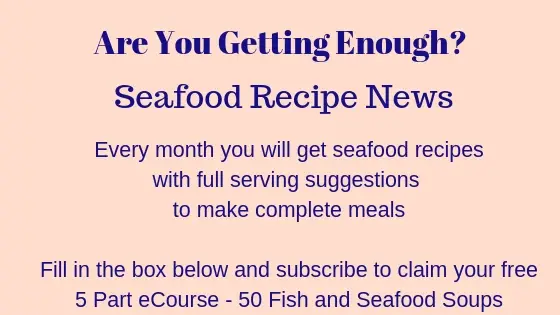 Fish Cake Recipe
By Liz Alderson, Mar 30, 2016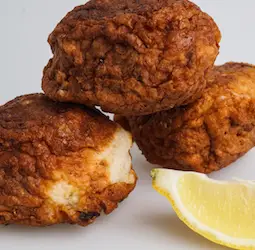 This fishcake recipe is very versatile.
Prep Time: 90 minutes

Cook time: 5 minutes

Yield: 4

Main Ingredient: fish, potato