Fish Taco Recipe
As an Amazon Associate I earn from qualifying purchases.

This fish taco recipe is part of a Mexican Feast. It's good as part of a larger buffet type meal or you could use the recipe for your family - 12 tortillas and 6 pieces of fish with the salads would be a really great meal to do - makes it feel like you're going out, but you've saved the money...
The salad is a very versatile one, more of a salsa - I love my salad chopped up into dice and dressed, either with lime or lemon juice or a french dressing. I always find I'm fed up with eating salad before I feel full unless I do it this way - my family enjoy it too - keep dipping into the bowl until it's empty, which they wouldn't do if it was a boring sliced up salad.
Buy some guacamole and tortilla chips if you like - serve with lime wedges for a real Mexican feel. Add some grated cheese to sprinkle over and you've got an amazing meal.  
---
Mexican Taco Recipe
1 can sweetcorn
1 diced red onion
1 diced green pepper
1 diced red pepper
1 lime - juice and zest
4 tbspns sour cream
cayenne pepper to taste
black pepper to taste
salt to taste
6 fillets of tilapia - or any fish you prefer
oil for brushing fish
12 tortillas

Combine the sweetcorn, onion, peppers and lime in a bowl.
Pre-heat your grill and brush the fish with oil - then season with cayenne, pepper and salt.
Grill for a few minutes either side - on turning, brush with oil and season again.
Split the 6 tilapia fillets into four pieces so that each tortilla gets 2 strips.
Warm the tortillas and let each person make their own taco - combining salad, fish and cream.
Cook's Notes

I love avocado and eat at least four a week. It's great smashed onto toast as a breakfast. I crush some dried chillies over and a sprinkle of lime if I have it. 

When you're serving tacos or a chilli, add a sliced avocado as a side to get more of the healthy fats they contain. 
If you've enjoyed this fish taco recipe, look at these other Mexican style seafood dishes. 
Some of the links on this site include affiliate links, providing Find-a-Seafood-Recipe a small percentage of the sale at no additional cost to you. 

Subscribe to Seafood Recipe News - complete the form below.
Your email address is secure and will *only* be used to send Seafood Recipe News. When you confirm your subscription, you will be taken to a page where you can access your free eCourse. Complete the form and it will arrive over the following five days.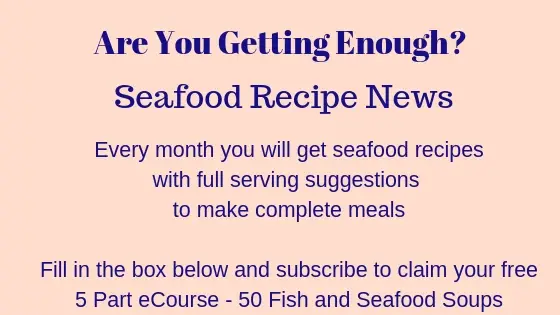 Mexican Taco Recipe
By Liz Alderson, Mar 30, 2016
This Mexican Taco recipe is a really great meal to do - makes it feel like you're going out, but you've saved the money.
Prep Time: 2 minutes

Cook time: 7 minutes

Yield: 12

Main Ingredient: fillets of tilapia, tortillas