Fish Appetizer Recipes
As an Amazon Associate I earn from qualifying purchases.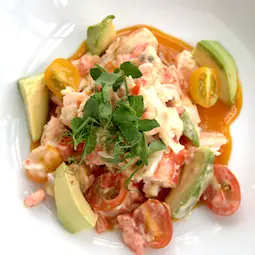 Crab and Avocado
I would say this is one of the most versatile fish appetizer recipes you could find - it's certainly a very tasty one.
You'll need ripe avocados for this - if you press the stalk end very gently, there should be some give.
Stoning it is fairly simple - just take a sharp knife and score round the centre of the 'long' side.
Cut right to the stone - hold the 'halves' firmly in each hand and 'twist' so that they go in opposite directions.
This should result in one of the halves coming away from the stone.
Take your knife and loosen the stone from the other half and you're away.
Loosen the flesh by running a knife as close to the skin as you can.
---
The crab mixture can be as simple as you like and serve it depending on what your tastes are.
Crab meat is quite rich - use white meat here and about 3 to 4 oz (75 to 100g) per person - then:-
Either take cooked crab meat, mix with some lemon juice and black pepper and spoon onto each half of avocado.


Mix the crab with some finely diced cucumber and celery and bind together with mayonnaise - spoon onto each half.


Alternatively, you can peel the two halves of the avocado pear and then slice thinly. Layer onto a plate with the crab meat - arranged in the centre and mix with some halved cherry tomatoes (photo)


You could also dice the avocado, mix with the crab meat, mayonnaise and seasonings, then place onto a pile of shredded leaves and sliced tomato. Garnish with some watercress or dill.
It's best to eat with a spoon rather than a knife and fork - much like a prawn cocktail.
Your imagination is the only limit here - you can garnish with a few shrimp if you like.
Cook's Notes

Fish appetizers are very popular as many of them can be prepared ahead, leaving you time to concentrate on the main courses. 

Also, a lot of people are shy of preparing fish even though they love it - they just don't know how to serve it. 

Smoked salmon is a super simple way of serving fish as a starter and very luxurious. Shrimp are a firm favourite with many people and a fish cake is a great way of making a small amount of fish go a long way.
More fish appetizer recipes 
Some of the links on this site include affiliate links, providing Find-a-Seafood-Recipe a small percentage of the sale at no additional cost to you. 

Subscribe to Seafood Recipe News - complete the form below.
Your email address is secure and will *only* be used to send Seafood Recipe News. When you confirm your subscription, you will be taken to a page where you can access your free eCourse. Complete the form and it will arrive over the following five days.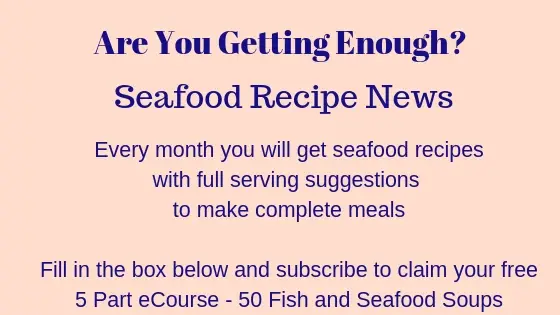 Crab and Avocado Appetizer
By Liz Alderson, Mar 30, 2016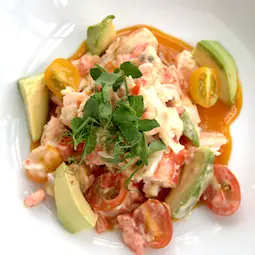 Fish Appetizer Recipes are very popular. A lot of people love a seafood appetizer. This recipe for Crab and Avocado is fabulous plus more recipes for shrimp cocktail and others.
Prep Time: 20 minutes

Cook time: 0 minutes

Yield: 4

Main Ingredient: crab, avocado