Watercress Sauce
As an Amazon Associate I earn from qualifying purchases.

This peppery watercress sauce can be served either cold or warmed through - it's ideal with any white fish and very simple to make.
You do need a blender or food processor though - either a liquidizer or a stick blender - to mix the ingredients.
It's excellent warmed through to serve over any plain grilled or fried fish.
Do not heat too much as it could curdle, just a gentle heating in a pan on the stove - don't be tempted to microwave it as the result could be the same.
It's a brilliant green colour - it looks very good against the deeper colours of salmon - quite dramatic. Just look at the photo here and imagine that spooned over the middle of a nice piece of salmon fillet.

---
Watercress or Spinach Sauce
2 bunches of watercress
5 floz (150ml) soured cream
few twists black pepper
squeeze of lemon juice

Put all the ingredients into a blender and whizz together until smooth. Taste and season accordingly.
You can just pop this into a pan and warm through gently to serve over cooked white fish or serve it cold - I prefer it warm.
You could substitute spinach (about 8 oz, blanched before processing - just dip into boiling water for about 2 minutes) for the watercress.
I would serve this with salmon, trout or any white fish and some plain buttered vegetables and my old favourite, new potatoes.
In season, asparagus would be lovely, but petit pois, broccoli, cauliflower or carrots would be excellent.
Some of the links on this site include affiliate links, providing Find-a-Seafood-Recipe a small percentage of the sale at no additional cost to you. 

Subscribe to Seafood Recipe News - complete the form below.
Your email address is secure and will *only* be used to send Seafood Recipe News. When you confirm your subscription, you will be taken to a page where you can access your free eCourse. Complete the form and it will arrive over the following five days.
Find A Seafood Recipe

>
Fish Sauce Recipes
> Watercress Sauce
Watercress Sauce
By Liz Alderson, Mar 30, 2016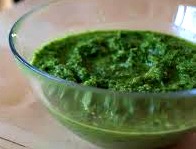 Peppery watercress sauce is lovely served over hot or cold fish. It's super simple to make and is such a gorgeous green that it will add a splash of colour to all your fish meals.
Prep Time: 5 minutes

Cook time: 2minutes

Yield: 4

Main Ingredient: watercress, sour cream