St Patricks Day Recipe
Poached Salmon with Spinach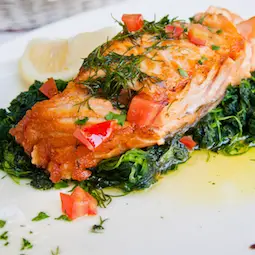 St Patricks (patron saint of Ireland) Day is the 17th March and people celebrate all round the world - if you're going to have a party, but you don't fancy the traditional Irish fayre, then go for a colour theme.
Adopt the colours of the Irish flag for your theme - green, orange/gold and white.
Use a white tablecloth, gold and green candles and napkins.
Have a tomato basil soup  as a starter - swirl of cream and chopped parsley.
A mixed fruit salad - kiwi, mango, lychees, green grapes, orange segments and pear or apple slices - top with whipped cream, chopped angelica and a sprinkle of cinnamon or ginger.
And this piece de resistance for your main course - my St Patricks Day recipe - to serve 4.
---
Poached Salmon on Spinach

2 lb (1k) piece salmon fillet
1/2 pint wine
water
fresh ground black pepper

Put your piece of salmon into a pan, season with pepper and pour the wine over.
Add water to cover the salmon.
Bring up to the boil, cover the pan and turn off the heat - leave until the salmon is cold and it will be perfectly cooked.
If you want your salmon warm, then simmer for 5 minutes or so and allow to cool enough to handle and then divide into four portions.
Spinach
1 large bunch of spinach
Chopped bell pepper
Chopped fresh dill
ground black pepper
lemon juice to taste

Steam the spinach and chopped pepper.
Drain the vegetables when the spinach is tender - around 5 minutes.
Put a bed of spinach on the serving plate, top with the poached salmon and sprinkle the dill over.
Serve the poached salmon with carrots, broccoli, cauliflower and new potatoes, following through the green, orange and white theme.
Finish your meal with Irish Coffees - sweetened black coffee, a shot of Irish Whiskey and cream floating on top.
You may also like these recipes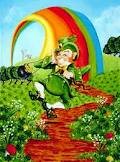 Find A Seafood Recipe

>
Grills and Barbecues
> St Patricks Day Recipe
Poached Salmon on Spinach
By Liz Alderson, Mar 30, 2016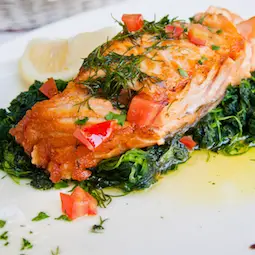 This Poached Salmon on Spinach is a superb recipe if you're going to have a St. Patrick's Day party.
Prep Time: 5 minutes

Cook time: 5 minutes

Yield: 4

Main Ingredient: salmon fillet, spinach
 St Patricks Day Recipe - to Find a Seafood Recipe Home
---
Some of the links on this site include affiliate links, providing Find-a-Seafood-Recipe a small percentage of the sale at no additional cost to you. You are not obliged to use these links to make a purchase, but if you do, it helps to support this site and keep the content free.

---
---