Sole Fish Recipes
As an Amazon Associate I earn from qualifying purchases.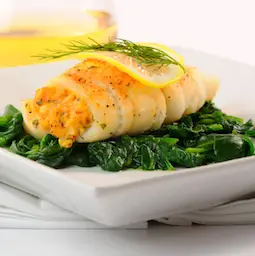 Before I give you the sole fish recipes, I must tell you that when you are rolling fish you must have the skin side on the INSIDE of the roll - if you were to do it the other way round, the roll will open whilst cooking and you'll lose your stuffing and nice shape. The fillets need to be scored lightly first - that's skin side again.
I tend to have the fillets skinned, but the side that had the skin still needs to go on the inside of the roll and it still needs to be scored lightly.
---
Sole Stuffed with Crab
1 tbspn olive oil
1 small onion, peeled and finely chopped
2 oz (50g) fresh white breadcrumbs
8 oz (250g) crab meat
4 tbspns creme fraiche or soured cream
8 sole fillets
1/2 pint (300ml) fish stock, or a mixture of water and wine
2 tbspns double cream

First make the stuffing.
Heat the oil in a pan and soften the onion - put the breadcrumbs, crab and creme fraiche into a bowl and mix them together thoroughly.
Once the onions are cooked, add them to the stuffing mix.
Now take your sole fillets skin side UP, lightly score them and spread the stuffing equally between them. Roll them up into neat parcels from the head end to the tail end.
Put them into a pan just big enough to take them.
Pour your cooking liquid into the pan, bring it up to simmering and cover the pan.
They will take about 10 to 12 minutes to cook.
Transfer the sole fillets to a serving dish and keep them warm - boil the poaching liquid down to about half and then stir in the cream.
Pour over the sole fillets and serve immediately.
For the next of these two sole fish recipes, I will just give you the stuffing ingredients - the method is the same.
Sole Stuffed with Salmon Mousse
8 oz (250g) fresh salmon cut into cubes
salt and pepper
pinch of nutmeg
5 fl oz (150ml) double cream
1 egg white

You can either whizz all these ingredients together in a food processor or chop up the salmon finely and mix them all together by hand.
The second method will result in a less smooth mousse, but that's your choice. Personally, I would go with the first method, but if you don't have a food processor, then don't let that stop you enjoying this rich dish.
Allow the mixture to chill for 1 hour before using.
Follow the method as above for sole fillets stuffed with crab.
These two sole recipes are suitable for adapting to use with any flat fish - plaice, megrim, witch - whatever your fishmonger has.
You can serve them with plain buttered new potatoes, some green beans and carrots. Try some asparagus for a touch of luxury.
For more sole fish recipes, check out the links below
Some of the links on this site include affiliate links, providing Find-a-Seafood-Recipe a small percentage of the sale at no additional cost to you. 

Subscribe to Seafood Recipe News - complete the form below.
Your email address is secure and will *only* be used to send Seafood Recipe News. When you confirm your subscription, you will be taken to a page where you can access your free eCourse. Complete the form and it will arrive over the following five days.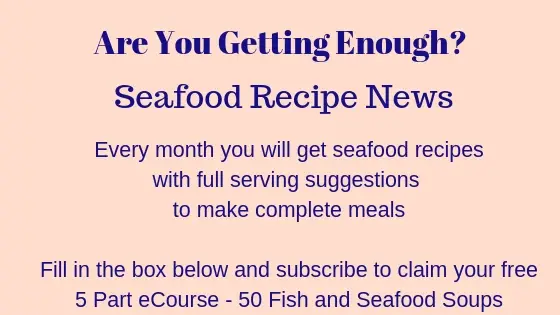 Sole Fish Recipes
By Liz Alderson, Mar 26, 2016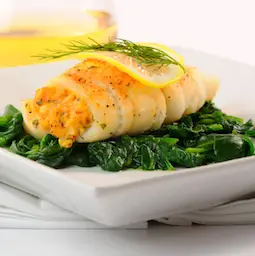 Superb sole stuffed with crab or salmon mousse. Poached to perfection, these will be wonderful for a dinner party or special meal .
Prep Time: 10 minutes

Cook time: 12 minutes

Yield: 4

Main Ingredient: sole, crab or salmon, cream