Fried Fish Recipe
Sole a la Meuniere
As an Amazon Associate I earn from qualifying purchases.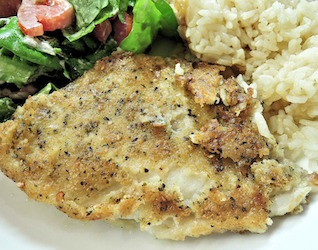 This fried fish recipe is suitable for use with any flat fish - plaice fillets for instance. 
It needs very little in the way of embellishment - the simple butter and lemon sauce will thicken with the flour which comes off the fish - you need to be very careful that the butter doesn't overheat as it will burn.
Sole tends to be a bit expensive but plaice is often cheaper - frozen fillets would be alright - make sure that you defrost them thorougly before cooking as the cooking time is rapid and any ice particles would make the butter spit and cool.
---
Sole a la Meuniere

4 oz (100g) plain flour
1/4 pint (150 ml) milk
6 sole fillets
6 oz (175g) butter
1 tbspn lemon juice
handful fresh chopped parsley

Put a serving dish in a low oven - as you'll have to fry the sole in batches.
Season the flour with salt and pepper.
Dip the sole fillets in the milk and then into the flour, making sure they are well coated.
Melt 4 oz (100g) of the butter in a frying pan - be careful as butter burns and it would spoil the taste of the finished sauce.
Fry the sole on either side for a couple of minutes, until it's cooked - remove to your warm serving dish.
When all the fillets are cooked, melt the rest of the butter in the frying pan and quickly stir in the lemon and parsley.
Pour over the cooked fillets and serve.
This sole menuire recipe would be delicious with some boiled new potatoes and a salad.
You may also like these recipes
Cook's Notes

This is a classic method of cooking sole - as you can see the ingredients are very simple, sometimes the best fish only needs the most basic ingredients.

The idea is to present the fish without overwhelming the flavour of it by complicating the cooking method. A simple pan fry in butter is often the most you'll need to cook fish. It's quick and simple. 

The trick is to have your sides ready to go as soon as the fish is cooked.
Some of the links on this site include affiliate links, providing Find-a-Seafood-Recipe a small percentage of the sale at no additional cost to you. 

Subscribe to Seafood Recipe News - complete the form below.
Your email address is secure and will *only* be used to send Seafood Recipe News. When you confirm your subscription, you will be taken to a page where you can access your free eCourse. Complete the form and it will arrive over the following five days.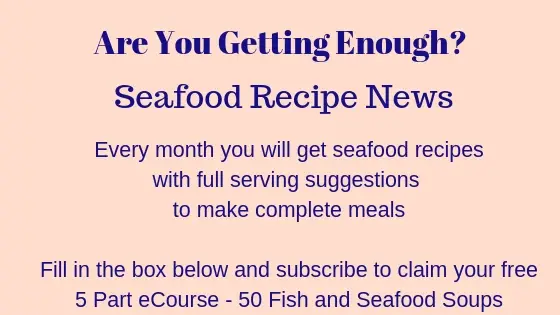 Sole a la Meuniere
By Liz Alderson, Mar 30, 2016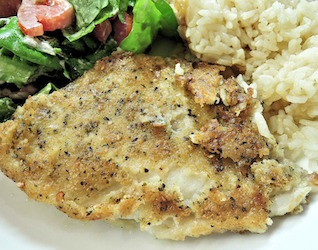 This versatile Sole a la Meuniere recipe is suitable for use with any flat fish - plaice fillets for instance.
Prep Time: 2 minutes

Cook time: 7 minutes

Yield: 2

Main Ingredient: fish, milk, lemon juice