Smoked Salmon Spread
As an Amazon Associate I earn from qualifying purchases.

Super simple smoked salmon spread - this is part 2 of the tutorial.
---
This spread is served with a wedge of lemon and some buttered toast quarters.

A very tasty smoked salmon appetizer.

Take a small handful of parsley.

I use the whole stem, stalks and all.


Parsley is good with smoked salmon - it's good with any fish to be honest.



Chop the parsley finely.

You can use a knife or a chopper and board as I do.

If you chop finely, then it doesn't matter about having stalks in your spread.

Put the smoked salmon, cream cheese, parsley, about a tablespoon of fresh lemon juice and a few twists of black pepper into a food processor.

Taste and adjust the seasoning after blending.

Whizz the spread for a few seconds until it is smooth.

Don't have to worry about blending it totally smooth, just chop it up so that it's got some chunks in.

Turn the spread into a dish and chill in the fridge for about 30 minutes.

If you haven't a processor, then you can chop and mix by hand.

Smoked salmon is quite a soft fish and will blend easily.

You may also like these recipes
Some of the links on this site include affiliate links, providing Find-a-Seafood-Recipe a small percentage of the sale at no additional cost to you. 

Subscribe to Seafood Recipe News - complete the form below.
Your email address is secure and will *only* be used to send Seafood Recipe News. When you confirm your subscription, you will be taken to a page where you can access your free eCourse. Complete the form and it will arrive over the following five days.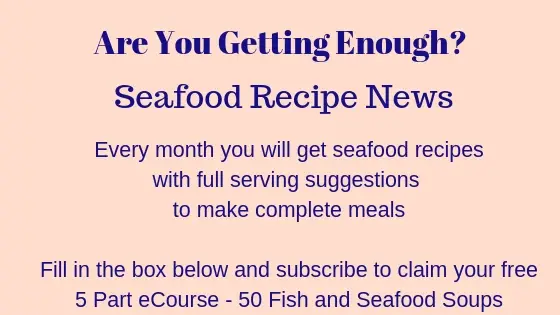 Smoked Salmon Spread
By Liz Alderson, Mar 26, 2016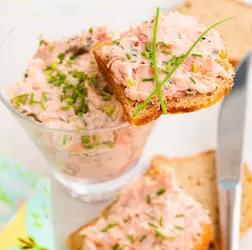 Smoked Salmon pate is a gorgeous, tasty appetizer or snack - great as a sandwich filling or on toast. Simple to make and illustrated with step by step photos - follow along.
Prep Time: 10 minutes

Cook time: 0 minutes

Yield: 4

Main Ingredient: smoked salmon, cream cheese