Smoked Haddock Recipe
As an Amazon Associate I earn from qualifying purchases.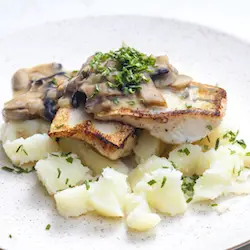 This smoked haddock recipe is so easy to prepare. just 5 ingredients and seasoning makes it a simple meal - a great evening meal for the family or an impressive meal for a dinner party.
The recipe is written to serve one person - treat yourself or multiply it up for more people.
It is so easy to prepare - the ingredients are 'rough' - cover the fish with milk - one portion takes about 5 tablespoons - add a bit more if you're using more fillets - a handful of mushrooms will serve one or two people in a sauce - use a few more if you're catering for three or four people.
Serve with mashed potato and vegetables to mop up the sauce.
---
Smoked Haddock with Mushroom Sauce
1 fillet smoked haddock
fresh ground black pepper to taste
75 ml (5 tbspns) milk - just enough to cover the fish
tspn of butter
handful mushrooms - sliced thinly
1 tbspn creme fraiche per portion
snipped chives to taste

Put the fish into a frying pan - add a few twists of black pepper.
Cover with milk and bring to the boil.
Simmer for around 6 minutes. The fish should be opaque and firm to the touch - remove the fish and keep warm.
Add the butter to the milk and melt.
Add the sliced mushrooms and simmer for about 2 minutes.
Add the creme fraiche and simmer the sauce for around 2 minutes to reduce and thicken. Drop the snipped chives in for the last minute.
Put the fish back into the sauce and heat for a minute or so.
Remove to a plate.
Serve with mashed (creamed) potato and plain boiled vegetables - carrots, broccoli, cauliflower, beans, cabbage - any vegetables are great with smoked haddock - the sauce will add flavour.
You may also like these recipes
Some of the links on this site include affiliate links, providing Find-a-Seafood-Recipe a small percentage of the sale at no additional cost to you. 

Subscribe to Seafood Recipe News - complete the form below.
Your email address is secure and will *only* be used to send Seafood Recipe News. When you confirm your subscription, you will be taken to a page where you can access your free eCourse. Complete the form and it will arrive over the following five days.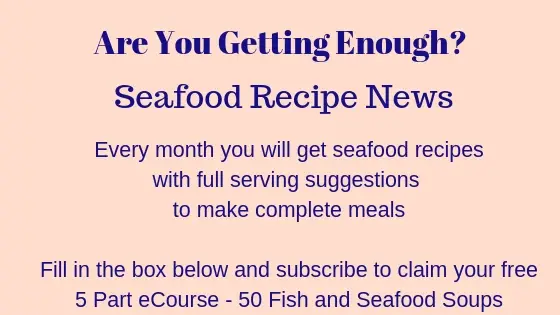 Smoked Haddock Recipe
By Liz Alderson, Mar 25, 2017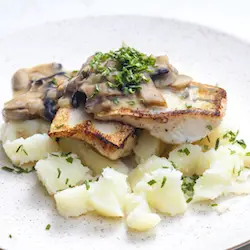 Smoked Haddock with mushroom sauce is a great midweek meal. Fish is very quick to cook and it means you won't have to spend hours in the kitchen to get a meal on the table. The quantities here are for one person but it's very easy to multiply for more.
Prep Time: 5 minutes

Cook time: 10 minutes

Yield: 1 or more

Main Ingredient: smoked haddock, mushrooms, butter, creme fraiche