Shrimp Cocktail Sauce

As an Amazon Associate I earn from qualifying purchases.

This shrimp cocktail sauce is so easy to make.
You only need 2 basic ingredients and you will be able to use this seafood sauce on your shrimp cocktail or as a dip.
You can season it after you taste - a squeeze of lemon, some black pepper - don't use salt until you serve the finished dish.
It's so useful - dollop it onto avocado, salads or use it as a dip with crackers, crudités or potato chips.
If you want to make your own mayonnaise, there is a short video at the bottom of the page - or you can click here to get the recipe to make mayonnaise yourself either the 'old fashioned' way by hand or the quick blender method.
---
So here's the 2 basic sauce ingredients.
Mayonnaise and tomato puree.
You can of course make your own mayonnaise if you prefer.

---
For enough sauce for 4 people put 4 tablespoons of mayo and about 1 of puree into a mixing bowl.
You can always add a little more if you need to as this shrimp sauce is so quick to make.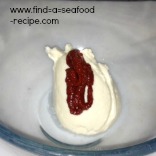 ---
Mix the two together - you can tell when it's done as the sauce goes a pretty pink colour.
The photo here on the right shows you what it should look like.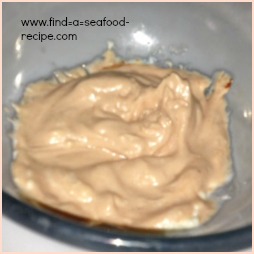 ---
After you you've tasted it, you might want to squeeze a few drops of lemon juice.
What I normally do is cut a lemon up so people can add it to their own shrimp cocktail.
I also put a sprinkling of paprika on the top of the sauce to give a bit of color and flavour. 
---
If you want to make your own mayonnaise, here's a very short video showing you how easy it is.
You will need three egg yolks to 300ml (1 1/4 cup) groundnut oil - you can use other oils, but they will add their own flavour to the mayonnaise, which you may not want.  
Personally, I use olive oil as I don't want to have lots of different bottles open in my cupboard. Also, I use two whole eggs rather than three egg yolks.  It seems a waste to me of using just yolks as I rarely use egg whites on their own. 
You may also like these recipes
Some of the links on this site include affiliate links, providing Find-a-Seafood-Recipe a small percentage of the sale at no additional cost to you. 

Subscribe to Seafood Recipe News - complete the form below.
Your email address is secure and will *only* be used to send Seafood Recipe News. When you confirm your subscription, you will be taken to a page where you can access your free eCourse. Complete the form and it will arrive over the following five days.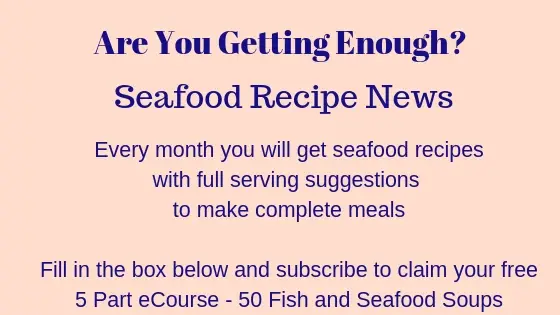 Shrimp Cocktail Sauce
By Liz Alderson,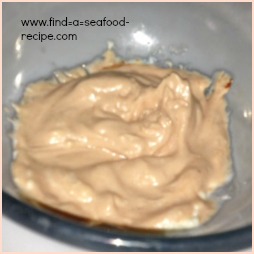 Two ingredients plus seasoning makes the easiest but tastiest shrimp cocktail sauce.
Prep Time: 5 minutes

Cook time: 0 minutes

Yield: 4

Main Ingredient: mayonnaise, tomato puree