A Versatile Recipe for Seafood Sausages
As an Amazon Associate I earn from qualifying purchases.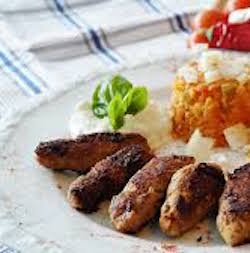 These seafood sausages can be baked, fried or grilled depending on your taste. 
Also, you may substitute any cooked seafood you prefer - they're a great way of using up leftover fish.
A tin of tuna or salmon would be an acceptable store cupboard alternative.
They're a variation on Glamorgan Sausages, which are cheesy and herb together - add some seafood and you'll have something quite remarkable.
Don't listen to people who say 'Sausages are meat' - a sausage is a shape and you can put anything you like into the recipe. People have chicken, turkey, beef, pork, pork & beef combined - we're having seafood in ours!
---
Seafood Sausages
1 small onion
3 oz (75g,1 cup)white breadcrumbs
3 oz (75g, 1 cup) grated hard cheese (full flavour)
6 oz (150g, 1 cup) cooked, flaked smoked haddock
1/2 tspn mixed dried herbs
1/4 tspn dried mustard
1/2 tspn salt
Pepper
Milk to dampen mixture
1 egg (separated)
Browned breadcrumbs (to coat)
Oil to fry/baste

Chop the onion finely and mix thoroughly in a basin with the white breadcrumbs, grated cheese, cooked fish and seasonings.
Add the egg yolk and enough milk to make a firm but workable mixture.
Divide the mixture into 8 pieces and mould into a sausage shape.
Leave for 30 mins or so in the fridge to chill to make it easier to handle them.
Whisk the egg white, dip each sausage in the egg white, then in the browned breadcrumbs. Repeat to give a good coating.
Leave for a few minutes in the fridge again before cooking.
Either - heat cooking oil in a frying pan and cook over a low heat for about 20 minutes, turning frequently.
Baste with oil and place them under a medium pre-heated grill for about 20 minutes - turning frequently.
Brush the sausages with oil, place on a tray in a medium oven (Gas Mark 4, 350F, 180C) for about 25 - 30 minutes, turning once.
Serve hot or cold.
They are very tasty and children will enjoy the flavour of them - it's a good way of getting them to eat fish without being presented with a piece of wet fish - much like fishcakes and fish fingers, they don't look like fish.
A salad and some bread and butter would be good.
You may also like these recipes
Some of the links on this site include affiliate links, providing Find-a-Seafood-Recipe a small percentage of the sale at no additional cost to you. 

Subscribe to Seafood Recipe News - complete the form below.
Your email address is secure and will *only* be used to send Seafood Recipe News. When you confirm your subscription, you will be taken to a page where you can access your free eCourse. Complete the form and it will arrive over the following five days.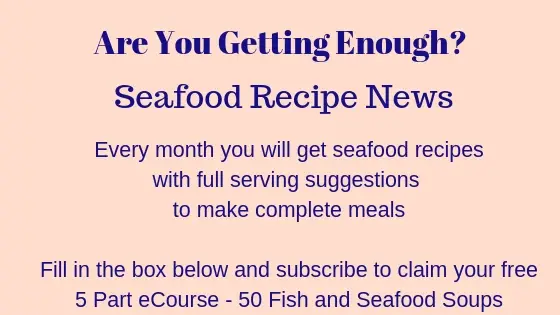 Seafood Sausages
By Liz Alderson, Mar 27, 2017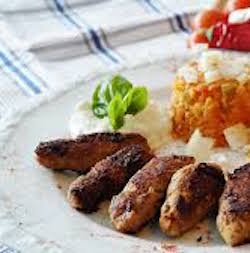 Really tasty and simple to make seafood sausages.
Prep Time: 5 minutes

Cook time: 20 minutes

Yield: 4

Main Ingredient: fish canned or fresh, breadcrumbs, cheese