Seafood Appetizer Recipe

Garlic Shrimp and Scallops

As an Amazon Associate I earn from qualifying purchases.

This seafood appetizer recipe smells delicious whilst cooking - beautiful garlic shrimp and scallops, what a combination!
The garlic and wine will get the taste buds going long before it reaches the dining table.
It does make a great seafood appetizer, but equally would make a good light lunch. 
Add some crusty bread to mop up the juices and a side salad if it's not an appetizer.
There are links at the bottom for some cold seafood appetizers - they're easy to make in advance if you're catering for a dinner party
---
Garlic Shrimp and Scallops Appetizer
8 cleaned scallops - sliced in two
8 large raw peeled shrimp
plain flour - about 2 tablespoons

3 tbspns olive oil
2 cloves garlic, peeled and crushed
1 tbspn fresh chopped parsley
2 tbspns lemon juice
4 tbspns white wine
1/2 oz (15g) butter
Salt and pepper


Rinse and dry the shrimp and scallops. Season the flour with salt and pepper and dip each piece in it. Shake off the excess.
TIP Put the flour in a poly bag, season and then put the prawns and scallops in - give the bag a good shake, tip the seafood out onto a plate and pick them out ready to fry.

The flour that comes off whilst cooking will make the sauce thicken slightly.

Heat the oil in a frying pan and lightly saute the garlic. Add the prawns and scallops to the garlic oil. Cook over a medium heat for 2 minutes, then turn and cook a further 2 minutes or so until they are firm to the touch. DON'T burn your fingers! This appetizer is HOT!

Remove the prawns and scallops to a warmed plate. Add the lemon juice, parsley and wine to the pan and boil to reduce to about half.
Add the butter and whisk it in - the sauce will thicken slightly as the flour residue and butter amalgamate.
Pour the buttery garlic sauce over the prawns and scallops and serve with some buttered brown bread quarters or crusty bread.
If you're making this as an appetizer, then just serve a little bread or the main course will be spoiled!
If it's a main, then double up on the buttery sauce and serve a whacking big baguette to mop up the juice.
Finger bowls - hot water with lemon slices - would be a nice touch here for your guests.

Seafood Appetizer Recipe - try these for something cold which you can make in advance. 
Some of the links on this site include affiliate links, providing Find-a-Seafood-Recipe a small percentage of the sale at no additional cost to you. 

Subscribe to Seafood Recipe News - complete the form below.
Your email address is secure and will *only* be used to send Seafood Recipe News. When you confirm your subscription, you will be taken to a page where you can access your free eCourse. Complete the form and it will arrive over the following five days.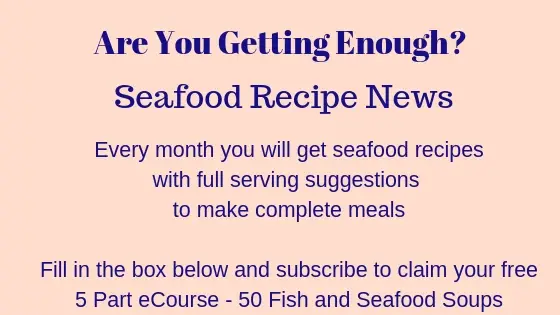 Shrimp & Scallop Seafood Appetizer
By Liz Alderson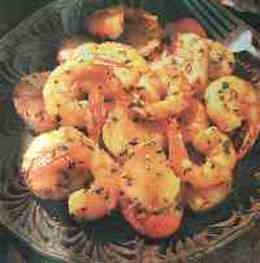 Superb seafood appetizer recipe, shrimp and scallops in garlic butter.
Prep Time: 15 minutes

Cook time: 10 minutes

Yield: 4

Main Ingredient: shrimp, scallops, garlic, white wine