Savoury Butter
As an Amazon Associate I earn from qualifying purchases.

A savoury butter (savory US spelling) is a great alternative to a sauce. It's also a way of preserving herbs that you might have left over or growing in your garden. 
A lot of people are afraid of making sauces and some don't like heavy sauces because it masks the fish and they can't see any bones.
Also, fish has a tendency to dry out whilst cooking and some butter on top will make it moist again and be the perfect solution to add some taste and moistness at the same time.
I will give you a basic recipe for garlic butter and then a list of possible ingredients you can substitute or add for the garlic and parsley.
---
Savoury Butter (Savory Butter)
4 oz (100g) butter - softened
1 clove garlic - peeled and crushed
handful chopped parsley

Simply mix the ingredients together - roll into a sausage shape and chill in the fridge.
So easy but so effective.
Suggestions
1 tbspn garlic puree
1 tbspn tomato puree
Juice and rind of 1 lemon
Juice and rind of 1 lime
Juice and rind of 1 small orange
Fresh chopped parsley
Fresh chopped dill
Fresh chopped watercress
Fresh chopped sorrel
Cayenne pepper to taste
Fresh chopped chives
Few cracked fennel seeds
Coarsly crushed black peppercorns
Fresh chopped thyme

Use just one or a mixture to make it different every time.
You can make lots of different types and freeze it.
Either freeze it in the sausage shape or cut it into discs so you can take a little out at a time.
It would be best to freeze say two or four discs with some greaseproof paper separating so you can easily remove what you want - or, put them in a poly bag with a label then into a poly box so they don't get bashed about in the freezer.
Cook's Notes

You can use dried herbs instead of fresh - quantities are difficult to assess as it depends very much on personal taste.

As a general rule of thumb, one tablespoon of fresh herb is equivalent to one teaspoon of dried. 

Which herbs to use depends on what you're going to be using the savoury butter with. You can't go wrong with parsley because that's a universal herb that goes well with anything. Garlic butter is a firm favourite with many people and the addition of parsley might go some way to combatting the garlic breath. 
You may also like these recipes
Some of the links on this site include affiliate links, providing Find-a-Seafood-Recipe a small percentage of the sale at no additional cost to you. 

Subscribe to Seafood Recipe News - complete the form below.
Your email address is secure and will *only* be used to send Seafood Recipe News. When you confirm your subscription, you will be taken to a page where you can access your free eCourse. Complete the form and it will arrive over the following five days.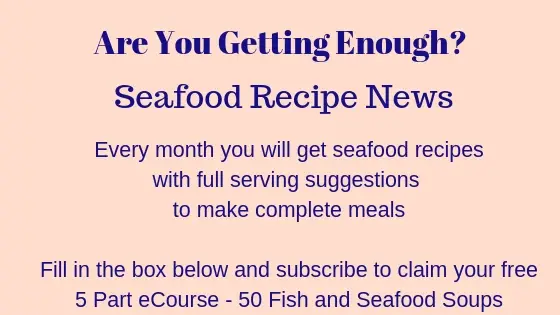 Savoury Butter
By Liz Alderson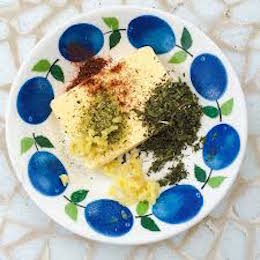 A very easy savoury butter which is perfect to melt over plain cooked fish or vegetables to lift your food to the next level.
Prep Time: 5 minutes

Cook time: 0 minutes

Yield: 4

Main Ingredient: butter, herbs