Sauces for Fish

Step 2 in this classic parsley sauce recipe. For part 1, Sauces for Fish

---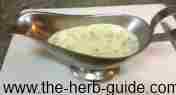 Put the butter into a pan.

I use a non-stick one which I save specifically for milk and sauces.

It's best if it has a heavy bottom as it helps the heat diffuse evenly.



Over a medium heat, gently melt the butter.

It should just begin to sizzle, but not too much.

Add the flour.

Using a spatula or wooden spoon (I like to use silicone as they are flexible and won't scratch the pan)

Look carefully here and see that I am taking the flour from the edge and mixing it bit by bit into the melted butter.

Here's about half of it blended in.

Using the back of the spoon, scrape the flour away from the pile, squash any lumps and blend away.

Here we are, nearly done now - the roue is just about made.

If you use equal quantities as in the recipe, you will be able to blend it as smoothly as this.

If you leave lumps at this stage, your fish sauces will be lumpy.

Here is the roue, smoothly mixed - all incorporated.

You need to cook this over a low heat for about 2 minutes.

Keep stirring and don't let it burn - you are making a white roue for white fish sauces.

Sauces for Fish - Step 1 of tutorial
Find A Seafood Recipe

>
Fish Sauce Recipes
> Parsley Sauce
Parsley Sauce for Fish
By Liz Alderson, Mar 25, 2017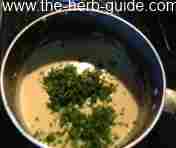 Simple step by step instructions and photos for how to make parsley sauce for fish
Prep Time: 5 minutes

Cook time: 10 minutes

Yield: 4

Main Ingredient: parsley, milk, flour, butter
---
Some of the links on this site include affiliate links, providing Find-a-Seafood-Recipe a small percentage of the sale at no additional cost to you. You are not obliged to use these links to make a purchase, but if you do, it helps to support this site and keep the content free.

---
---