Questions
As an Amazon Associate I earn from qualifying purchases.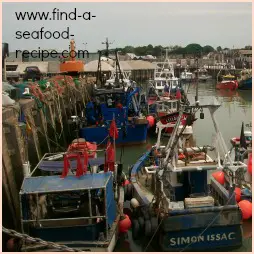 Please use the contact form below to ask your fish and seafood questions.
You can make the question as long as you like - the box expands magically :-)
I will get a copy of this into my inbox - if you add your own email address, then you will be notified when there are any additions or responses to your question.
Doesn't matter what it is - how simple - everybody has to learn sometime - so if you have a question, please ask - I will answer where I can or search for information if I don't know the answer.
---
Some people have emailed asking about specific problems with the recipes, how to calculate the amount of fish needed for large catering events such as weddings - what is basa fish and river cobbler - what is the best fish to use for frying - what is the best batter recipe for cod - how do I cook smoked haddock - is there a cheaper alternative to cod?
One that comes up time and again, is what to serve with fish - there's a section called 'sides' which will hopefully help you there. If you want to know more, then please fill in the form.

How to make parsley sauce - the most popular - lovely with new potatoes and plainly cooked fish - some of the answers can be found within the site, but it doesn't matter - if you have a question and can't find the answer quickly, then I really don't mind if you fill in this box - I can either answer you or direct you to the right page so long as you fill in your email address.
We all have to start somewhere in the learning curve - I remember learning to cook along side my nan - I still have some of her cookware, loaf tins, muffin tins and of course her recipes are in my head!
The list goes on and on.
Feel free to ask whatever you like and I will do my very best to respond to you.
If you are looking for a specific recipe, then fill in this box and I will try and find it for you.
You may also like these recipes
Some of the links on this site include affiliate links, providing Find-a-Seafood-Recipe a small percentage of the sale at no additional cost to you. 

Subscribe to Seafood Recipe News - complete the form below.
Your email address is secure and will *only* be used to send Seafood Recipe News. When you confirm your subscription, you will be taken to a page where you can access your free eCourse. Complete the form and it will arrive over the following five days.