Poached Salmon Recipe
As an Amazon Associate I earn from qualifying purchases.

This poached salmon recipe uses the microwave to cook the salmon. You could make this salad any time of year - there's always bags of mixed salad leaves and new potatoes available in the supermarkets these days.
Try and buy your salmon from a fishmonger though - use it or loose it - the supermarkets will take over if we don't use the small specialists and then we've only got ourselves to blame for the lack of choice and expertise - ask a supermarket assistant to bone something for you - by and large, they only know how to price and pack...
You can serve it either warm or cold - I like warm best - but it can be prepared in advance, kept in the refrigerator and assembled just before serving if you prefer.  The prosciutto may go soggy though, so I would cook that just prior to assembling the salad. Alternatively, some supermarkets do sell crispy bacon already cooked and that would be a good substitute if you wanted. 
---
Microwaved Poached Salmon

4 salmon fillets
1lb (500g) new potatoes
finely chopped spring onions
1 bag mixed salad leaves
olive oil for frying
6 slices prosciutto
Dressing
4 tbspns mayonnaise
1 tbspn white wine vinegar
1 tbspn chopped fresh dill
3 tbspn olive oil

Place your salmon fillets in a microwave dish, sprinkle lemon juice and pepper over and cover.
Microwave for 5 to 6 minutes until the fish is just beginning to flake. Allow it to cool a little and remove all skin and bones and break into generous sized chunks.
Cook the potatoes until tender - about 10 to 15 minutes in a pan of boiling water - cut into pieces.
Combine all the dressing ingredients together - taste and perhaps add a little bit of sugar if you want to.
Heat the oil in a frying pan and slice the ham into strips - fry until crisp.
Take the salmon, potatoes, spring onions and then pour over the dressing - mix together gently.
Put the salad leaves into a serving bowl and pile in the salmon mixture - top off with the crisp ham.
This poached salmon recipe would be good served with crusty bread as a main course or in individual portions as a starter.
You may also like these recipes
Some of the links on this site include affiliate links, providing Find-a-Seafood-Recipe a small percentage of the sale at no additional cost to you. 

Subscribe to Seafood Recipe News - complete the form below.
Your email address is secure and will *only* be used to send Seafood Recipe News. When you confirm your subscription, you will be taken to a page where you can access your free eCourse. Complete the form and it will arrive over the following five days.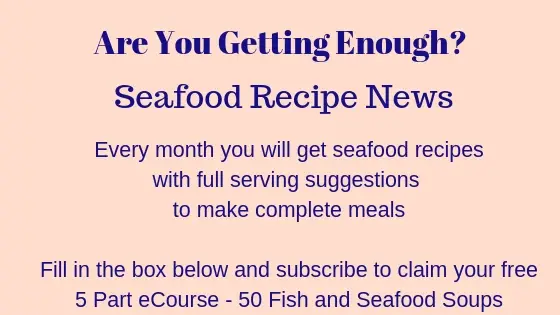 Poached Salmon Recipe
By Liz Alderson, Mar 22, 2017
How to poach salmon in the microwave - serve with a lovely salad.
Prep Time: 5 minutes

Cook time: 5 minutes

Yield: 2

Main Ingredient: salmon, potatoes, salad