Pepper Crusted Salmon Recipe
Pepper Crusted Salmon Recipe

As an Amazon Associate I earn from qualifying purchases.

This pepper crusted salmon recipe is a very simple method of preparing broiled (grilled) salmon.
It's quick enough to cook for a family meal and tasty enough for a dinner party dish.
To crush the peppercorns, you can either use a pestle and mortar, the end of a rolling pin and a small dish or put the peppercorns in a plastic bag and smash them to bits with a rolling pin or mallet.
They only need crushing roughly - just cracked really, so crush them very gently - you don't want them shooting off all around the kitchen. You'll be finding them for weeks afterwards if you're too rough with them!
It is your choice whether you skin the fish or not - some people love the crispy skin, some people don't like it.
If you prefer to cook this on a barbecue, then it will need about 3 minutes either side and I would give it a brushing with oil each time you turn it during cooking or it might dry out. 
In fact, if you were to barbecue it, you could change the recipe slightly to have the oil and lemon juice mixed up (like a salad dressing) and then add the crushed peppercorns and salt - then dip the salmon fillets in that prior to putting on the grill and baste it with the oil mixture during cooking. 
---
Pepper Crusted Salmon

4 salmon fillets - skinned
1 tbspn black peppercorns
1 tspn sea salt
juice of 1 lemon

Heat the broiler to high.
Crush the peppercorns and then mix them with the salt.
Put this mixture on a dinner plate.
Dip the salmon fillets into the lemon juice, then into the peppercorn mix.
The lemon will make the fillets wet and help the pepper and salt mixture stick to the fish - press the fish into the dry mix and try and coat both sides of the fillet.
Broil for 5 minutes, then turn the fish.
Brush with lemon juice and then divide what's left of the peppercorn mix over the fillets.
Broil a further 5 minutes or so until the fish is cooked through - you can tell that it's cooked as when you press it, it's firm to the touch.
Serve hot with some new potatoes and a mixed salad or vegetables.
You may also like these recipes
Some of the links on this site include affiliate links, providing Find-a-Seafood-Recipe a small percentage of the sale at no additional cost to you. 

Subscribe to Seafood Recipe News - complete the form below.
Your email address is secure and will *only* be used to send Seafood Recipe News. When you confirm your subscription, you will be taken to a page where you can access your free eCourse. Complete the form and it will arrive over the following five days.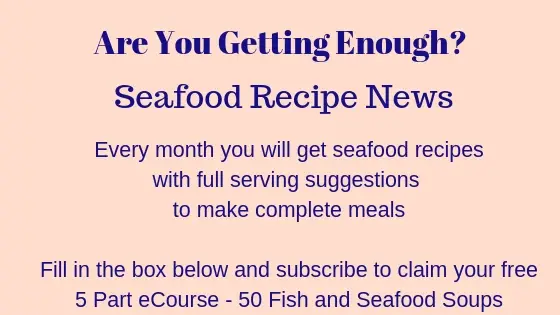 Pepper Crusted Salmon Recipe
By Liz Alderson, Mar 22, 2017
Gorgeous pepper crusted salmon ready in less than ten minutes.
Prep Time: 5 minutes

Cook time: 5 minutes

Yield: 4

Main Ingredient: salmon steak, peppercorns